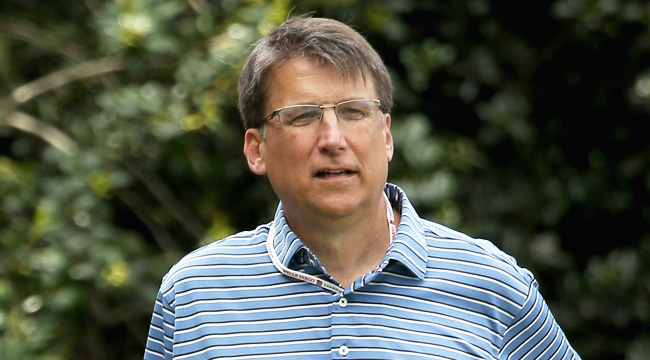 Though the country is adjusting to a surprise Donald Trump win in Tuesday night's election, there are a handful of key races around the electoral map that have yet to be decided. One such race features one of the most controversial political figures from the past two years: North Carolina Governor Pat McCrory, who has not yet conceded despite his opponent declaring victory.
According to Talking Points Memo, McCrory's challenger, a state Attorney General named Rory Cooper, has declared victory despite leading by fewer than 5,000 votes. Counties across the state are currently completing a canvass of their own votes, a process which is expected to be finished by or on November 18.
"The votes have been cast in the gubernatorial election, but many have yet to be counted," McCrory said on Wednesday to a news station in Raleigh. He cited "tens of thousands" of absentee and military votes that have yet to be counted. He said his campaign also has "grave concerns over potential irregularities in Durham County, including the sudden emergence of over 90,000 ballots at the end of [election] night."
Considering how Trump and incumbent Republican Senator Richard Burr won easily in North Carolina, the fact that McCrory's re-election race is so tight serves as a minor referendum on his previous term. The governor has been roundly criticized for his support of a state law that requires individuals to, when in government buildings, use the bathroom corresponding to the gender assigned to them as birth. It's become a touchstone issue for trans activists. The law also barred local governments from passing certain kinds of anti-discriminatory legislation.
McCrory's grievances about the mechanics of the voting tally have also drawn the ire of voting rights activists, who note his efforts to reinstate voter ID laws that the courts have ruled discriminatory against minority voters.