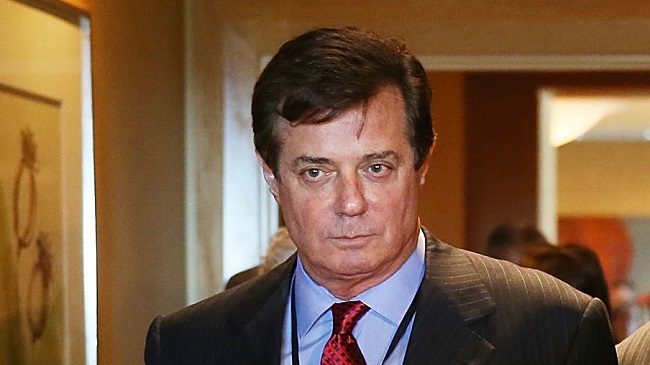 Two hundred members of Congress are suing Donald Trump over foreign payments, while the Senate Intelligence Committee has been grilling various people in the president's orbit about possible foreign ties. You'd think that, with all eyes on the White House, ex-Trump campaign manager Paul Manafort wouldn't be bragging about how much pull he has with his former boss. Yet that is precisely what Politico is reporting, despite Special Counsel Robert Mueller's decision to investigate Manafort in his Russia probe.
Rather than keeping his head down during the investigation into his Yankukovych dealings, though, Manafort apparently kept up his work, scoring deals based on his supposed ability to not only speak with Trump, but sway his foreign policy. This time he's trying to work with China, which has a complicated relationship with the Trump administration but also had no problems pushing through almost 40 new patents for the Trump Organization.
Politico spoke to one Trump advisor, who discussed Manafort's involvement in a plan in which China would purchase Puerto Rico's debt. "Paul certainly has a knack for making big deals, but it would problematic for the administration to…have Paul involved in the deal," said the advisor. "It would be problematic to have Paul representing himself as a liaison to the Trump administration on any deal, given the FBI investigation."
Manafort has been trying to keep up appearances by not popping up at the White House himself, but his right hand man, Rick Gates, has been visiting there at the behest of one of Trump's top campaign fundraisers, a man named Tom Barrack, who now employs Gates. About ten years ago, Gates was helping Manafort on projects for Oleg Deripaska, a pro-Putin Russian oligarch, projects that ended in accusations of missing and mismanaged money. In 2014, they did the deal with Yankukovych. And then came the Trump campaign. You might remember Gates as the guy who fell on his sword over the Melania Trump plagiarism debacle. Apparently Donald Trump isn't a fan of Gates himself, but that hasn't stopped Gates from perpetually trying to insinuate himself into Trump's world.
The Daily Beast reports that Gates even "mills about" the Trump International Hotel these days — proximity to the President seems to be the name of the game. The optics, at the very least, are suspicious, as Gates' most significant and long-time associate puts together a variety of Chinese deals, from the Puerto Rico project to infrastructure plans with Shanghai billionaire Yan Jiehe of Pacific Construction Group. According to Politico, Yan referred to Manafort in Chinese papers as "Trump's special envoy," and then took a page from Trump's own rhetorical book to brag "I will not seek out Trump. He will seek me out."
"He's going around telling people that he's still talking to the president," a lawyer close to the Puerto Rico deal told Politico of Manafort. "Even more than that — that he is helping to shape Trump's foreign policy." It could all just be bluster from a veteran broker of big international deals, trying to play his resume just right. Or it could be something more sinister, as Gates' lurking around Washington might suggest. Either way, Manafort is yet another specter of Moscow hovering over Trump's White House at a moment when the President would love nothing more than to leave those Russia rumors behind him.
(Via Politico)