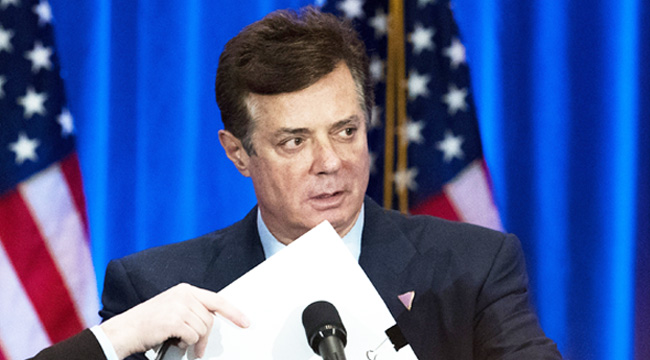 Former Trump Campaign Manager Paul Manafort is in the process of registering as a foreign agent. Let that one sink in for a few moments.
Manafort, who was revealed today to have reportedly received $1.2 million that corresponded to the "secret ledger" of Ukraine funds, has strong ties to both that country and Russia. Manafort ran the Trump campaign from March until August, which is when Trump downgraded him following the initial ledger news. Sean Spicer recently tried to erase all Manafort ties to Trump without success. This effort followed news that Manafort once worked for a Russian oligarch (Oleg Deripaska), who paid him $10 million per year to massage U.S. news and political coverage for a more pro-Putin slant.
Manafort now seeks to register as a foreign agent like Michael Flynn did after it was revealed that he lobbied for the Turkish government during the 2016 U.S. election. News of Manafort's decision arrives in a slightly nebulous form. His spokesperson, Jason Maloni, told the Associated Press that there were "talks" about doing so before the election, but he's finally going there:
Paul Manafort's spokesman says he was in talks with the government about registering before the 2016 election and is now "taking appropriate steps" in response to "formal guidance" from the government.

The spokesman says Manafort's lobbying work was not conducted on behalf of the Russian government and began before Manafort started working with the Trump campaign. It's unclear whether Trump was aware that Manafort was in talks with the government about registering before he hired him.
Naturally, Manafort's arguing that he didn't work for the Russian government — he previously called such assertions a "smear campaign" — despite his work with Deripaska, who's so tight with Putin that the two often travel on foreign trips together.
Whatever happens here with this foreign agent registration, it's guaranteed to be shady. The U.S. Foreign Agents Registration Act requires anyone working for foreign leaders to register with the Justice Department. Failure to do so is a felony offense, although prosecution rarely happens. Still, Manafort will soon be testifying in front of Congress about Trump-Russia ties, and the foreign-agent registration only adds to the larger picture.
For what it's worth (and it isn't much), Maloni told NBC News, "Manafort's work in Ukraine was totally open and appropriate and wire transfers for international work are perfectly legal." This won't provide much comfort regarding all of those purported text messages between Manafort's daughters, who fretted over their father's "blood money."
(Via Associated Press, NBC News & Business Insider)