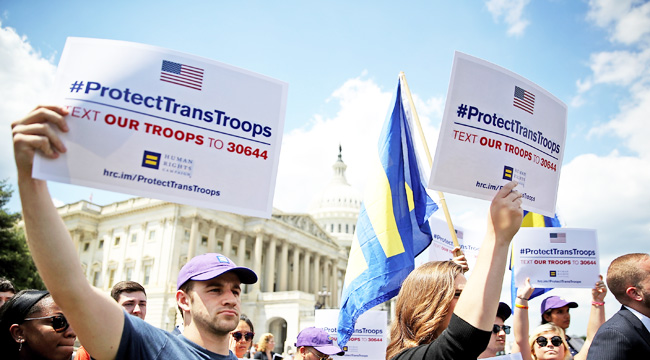 In October, a federal court ruled that transgender members of the military who had filed a lawsuit, and those planning to sue, over President Trump's ban on transgender service members were likely to win and blocked the ban from taking effect. After multiple branches of the military announced their intention to delay implementing the ban until an official order was made, it appeared that the ban wouldn't have to be followed at all. In another sign that Trump's ban might never become official, the Pentagon announced it would begin accepting transgender recruits into all branches of the military starting on New Year's Day.
While the Pentagon aims to accept transgender new recruits per the court ruling, government lawyers are hoping to secure a delay of the Jan 1 deadline. Per the Washington Post:
Officials are "taking steps to be prepared" to bring in the first transgender recruits on Jan. 1, as required by a federal court order issued recently, said Army Maj. David Eastburn, a Pentagon spokesman. He declined to comment further, citing open litigation, but said that the Defense Department and Justice Department are consulting on the issue.
Shortly after President Trump announced the ban, Secretary of Defense James Mattis organized an expert panel to review the issue of transgender service members and deliver a new policy based on that panel's report that would go into place in the first few months of 2018. A previous study by the Pentagon found that there were between 2,500 and 7,000 transgender people among the active U.S. troops, but Secretary Mattis has called those numbers into question in the past.
(Via Washington Post)