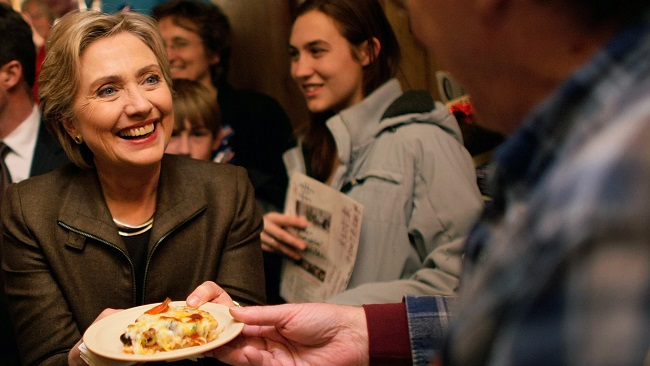 Ever since North Carolina resident Edgar Welch walked into the Comet Ping Pong pizzeria on Sunday and opened fire, the so-called "Pizzagate" conspiracy theory has found itself thrust into the limelight. Long a subject of internet rumblings, the fake news-based "theory" purports former Democratic presidential nominee Hillary Clinton, her husband Bill, and their associates participated in a pedophilia ring housed in the Washington D.C. restaurant's non-existent basement. Yet despite Welch's admission to the New York Times that "the intel on this wasn't 100 percent," this brainchild of assorted social media accounts, bots, boards and conspiracy theorist Alex Jones remains.
Nor does it show any signs of dissipating. Aside from the involvement of President-elect Donald Trump's National Security Advisor appointee in the story's spread, additional restaurants are now receiving threats. As DNAinfo New York reported on Wednesday, Brooklyn eatery Roberta's has become the latest target of Pizzagate believers and fake news purveyors alike:
A 24-year-old worker who answered the phone at Roberta's Moore Street restaurant on Dec. 1 at 11:15 a.m. was told, "You are going to bleed and be tortured," according to police.
Restaurant workers reported a similar call the next day at 5 p.m., during which the caller asked whether or not Roberta's had any connection to Pizzagate or a website that had published information about it. Regarding said "website," DNAinfo New York and The Verge tied the origins of the Brooklyn establishment's supposed involvement in Pizzagate to a YouTube account's since-deleted videos identifying Roberta's as being connected to Comet Ping Pong.

The NYT followed the Roberta's-Pizzagate thread even further back to the Reddit alternative Voat. One user alleged they'd found "a reference to Roberta's… in an email from Mrs. Clinton's private server released by the State Department." Apparently, claimed the Voat poster, the Clintons "attended a private birthday party for a prominent Democratic donor" at the Brooklyn pizza place back in 2012.
That's when things got weird, as "a discussion ensued as to whether the Roberta's logo, a skeleton holding a pizza paddle, and other, similar images connected the restaurant to the conspiracy." Other Voat users and several social media posts proceeded to "[mine] the restaurant's social media accounts for images that some felt represented expressions of Satanism or the occult."
Online wackiness notwithstanding, New York police have not made any arrests regarding the two threatening phone calls Roberta's received on Thursday, December 1st and Friday, December 2nd. Nor has any action been taken against the Voat posters, Twitter users, or YouTuber whose online publications named Roberta's as a part of the nonexistent Pizzagate conspiracy.
(Via DNAinfo New York, The Verge and New York Times)