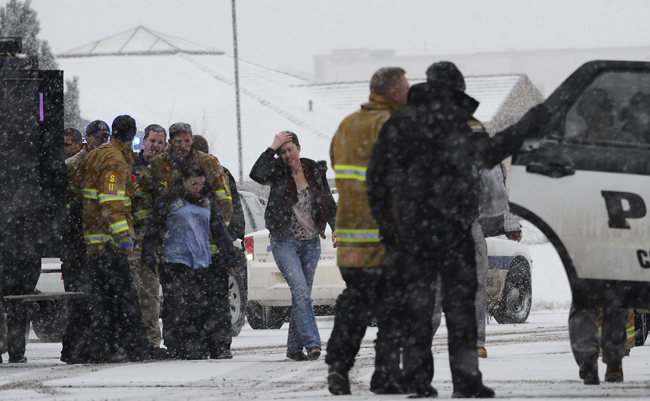 Details are still fuzzy following Friday's attack at a Planned Parenthood facility in Colorado, leaving three dead and several wounded in an act that many are calling "domestic terrorism." 57-year-old suspect Robert Lewis Dear was arrested after surrendering to police on Friday evening, but his motivations behind the attack are still unclear. For those on the scene according to the New York Times, the experience was one of shock and confusion:
When the shooting began Friday, Ms. Schilter dove behind the coffee counter at the grocery store. A woman who identified herself as a nurse rushed to the help the bloodied man who had just walked in.

As the nurse held the man's hand, he told people that he had been shot by a man in the parking lot between the Planned Parenthood clinic and the grocery store.

"He was just so much in shock," said Taylor White, 23, who was in the store. "He was like: Some crazy person out there is shooting people."
The attack forced many people to be locked down in nearby businesses and facilities, including a nursing home that was used by snipers as a staging area of sorts and the grocery store mentioned above. The Planned Parenthood is where the bulk of the drama unfolded according to the Denver Post, though, with police utilizing all tools to ensure the safety of those inside:
Officers exchanged gunfire with the suspect, identified by a federal law enforcement source as Robert Lewis Dear, 57, throughout the afternoon, even as they also used an armored vehicle to rescue people trapped inside the clinic. After preparing over the police radio for a final gunbattle, officers took the suspected shooter into custody without incident at 4:52 p.m. Colorado Springs police Lt. Catherine Buckley said officers at the scene were able to shout to the man and convince him to give himself up.

He was led out of the clinic in handcuffs, wearing a white T-shirt and a white beard. Police did not release his name and said Friday night they would not confirm it. He told officers at the scene that he acted alone, according to police radio transmissions. But Buckley said investigators can't yet say why he acted at all. "To even speculate on a motive would not be reasonable" at this point, Buckley said.
Media sources reported that Dear used a "long gun" in the attack and apparently carried bags into the facility containing propane tanks and other items, possibly containing bombs. The latter point caused police to shuttle bystanders and other witnesses away in buses while their vehicles were swept for explosives in the parking lot.
Planned Parenthood's response was covered in our previous post and released on Twitter, citing the attacks as "domestic terrorism" and the work of "extremists."
President Obama also released a statement early on Saturday morning, saying that "This is not normal," and, "We can't let it become normal":
The last thing Americans should have to do, over the holidays or any day, is comfort the families of people killed by gun violence — people who woke up in the morning and big their loved ones goodbye with no idea it would be for the last time.

And yet, two days after Thanksgiving, that's what we are forced to do again.

We don't yet know what this particular gunman's so-called motive was for shooting twelve people, or for terrorizing an entire community, when he opened fire with an assault weapon and took hostages at a Planned Parenthood center in Colorado. What we do know is that he killed a cop in the line of duty, along with two of the citizens that police officer was trying to protect. We know that law enforcement saved lives, as so many of them do every day, all across America. And we know that more Americans and their families had fear forced upon them.
The response to the attacks themselves have left little time to mourn those lost, two of whom haven't been identified at this point. Garrett Swasey of the University of Colorado police department is the one that has been released, a 44-year-old father of two and six-year veteran of the police force:
Swasey, a championship ice dancer turned six-year-veteran officer, was one of the first officers to respond to the clinic, which is about 10 minutes from the university campus.
President Obama mentioned Swasey by name in his statement and the fallen officer received a police escort in the early hours of Saturday morning. Nine other were injured in the attack, including five police officers, but all are in good condition according to Time.
We'll bring more as it is released.
(Via New York Times / Time / Denver Post / NPR / WFAA)