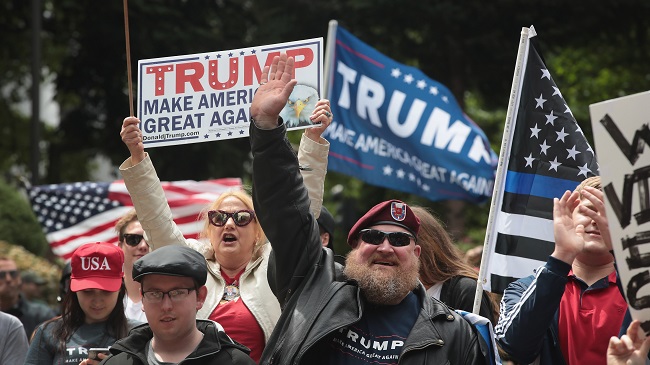 Following the violence in Charlottesville, Virginia and the massive counter protest in Boston, the pro-Trump and anti-Muslim group ACT for America has canceled 67 rallies in 36 states. According to a statement released to the press and picked up by Newsweek, the group claims that it "is deeply saddened that in today's divisive climate, citizens cannot peacefully express their opinion without risk of physical harm from terror groups domestic and international." Due to "an abundance of caution for the safety of members as well as all Americans," they have decided to pull their September 9th event.
While emphasizing safety concerns for their members and "all Americans," ACT for America's statement doesn't mention the violence that erupted in Charlottesville due to the more antagonistic members of the city's white supremacist and Nazi-laden protests. Nor does it mention the death of counter protester Heather Heyer, who was murdered by "Unite the Right" rally attendee James Fields when he drove his Dodge Charger into a narrow, crowded street of peaceful demonstrators. ACT for America does, however, mention that the canceled protests will instead be replaced by a "Day of ACTion."
Said day will "be conducted through online and other media," though the statement didn't indicate what shape these online-only rallies would take. Gizmodo did some digging and found several ACT-affiliated digital-only protests scheduled for September 9th in six locations — Baton Rouge, Boston, Cape Cod, New Jersey, Florida and Washington D.C. — but with few RSVP's to show for it.
(As of this writing, their respective RSVP tallies stand at two, eight, eight, seven, three, and three attending individuals.) Low numbers like these (and those seen at Boston's so-called "Free Speech" rally) hint, as Gizmodo suggests, that ACT for America canceled its physical events due to fears of low turnout.