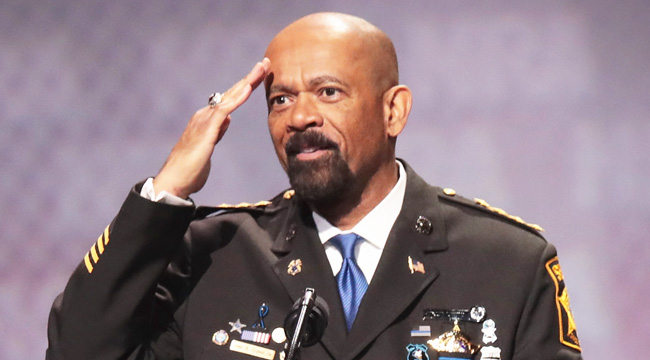 Former Arizona Sheriff Joe Arpaio's unfortunate legacy is still being dismantled after his failed re-election bid last November, but Milwaukee Sheriff David Clarke has been all too willing to assume the unofficial Most Controversial Sheriff in America title. To that effect, he shall be protested by thousands of marchers and over 100 Milwaukee businesses on Monday. This mass protest arrives after a similar event in February, which saw a police estimation of 10,000 to 20,000 marchers take part to protest Clarke's immigration stances. This time around, the stakes are arguably higher.
Two recent news stories have prompted the re-upped protest: (1) Clarke, who is being vetted for a Department of Homeland Security gig, vocalized his desire to have Milwaukee law enforcement aid ICE agents in accordance with the 287(g) program; (2) An inquest has shown that an inmate in Clarke's jail died of dehydration in 2016 after being deprived of water for a week. The march is broadly known as the Wisconsin "Day without Latinxs, Immigrants and Refugees," and CNN spoke to one of the protest's organizers:
"Sheriff Clarke, right off the bat, really waved the flag to say we're going to bring it to Milwaukee County," Christine Neumann-Ortiz, executive director of Voces de la Frontera, the immigrant rights group organizing the statewide march, said Sunday of the 287(g) program.

"It basically legalizes racial profiling because you can be stopped and questioned and put in detention based on how you look," she said.
With this protest, Milwaukee is poised to become the "national epicenter" to combat 287(g) because, as Neumann-Ortiz notes, Clarke gained national notoriety last summer for his outspoken support of then-Republican nominee Donald Trump. This endorsement even included "Blue Lives Matter" GOP convention speech to support Trump's status as a so-called law-and-order candidate. Madison.com says that Monday's protests are mainly geared toward preventing Clarke from putting 287(g) into action but will also serve as a general protest against Trump's deportation practices as well.
(Via CNN, Madison.com & Fox News)