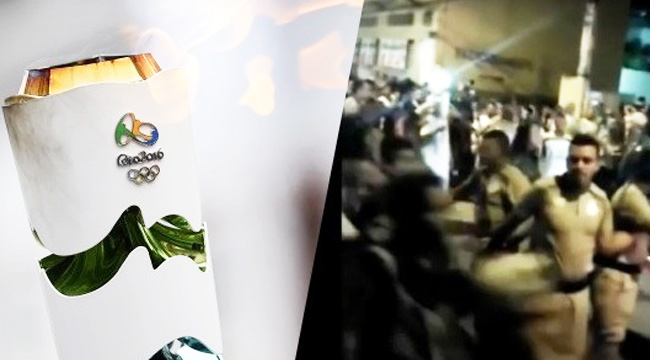 The International Olympic Committee just can't seem to catch a break lately. In yet another face palm for the IOC, protesters claim to have been successful in halting the Olympic torch relay and putting out the flame on Wednesday night. It's another installment in the long list of #RioProblems.
What makes the latest act especially notable is how it wasn't committed by some rogue group of protesters frustrated about the state of their city. Instead, it was reportedly carried out by government workers who are frustrated over lack of pay. They took to the street in Angra dos Reis, a city not far from Rio de Janeiro, to confront the relay. A chaotic episode unfolded as protesters took on the Olympic entourage.
While hoping to preserve order (which has been difficult so far), Rio military officials reportedly tried to subdue anarchy that was unfolding. Officials used standard riot equipment, a child was injured in the process, and the torch relay was halted. An Olympic torch is supposed to represent unity and prestige for the Olympic games, and not being to even secure that is another mark on the Rio Olympic games record. An amateur video was able to record some of the mayhem that occurred:

We are about a week away from the Rio Summer Olympics, and more problems keep popping up. Rio residents are adamantly opposed to the event, athletes are backing out, and even Olympic officials are telling people not to drink the water. It's a trying time for the City of Rio right now, so let's hope these issues won't come to define the games.
(Via The Washington Post)