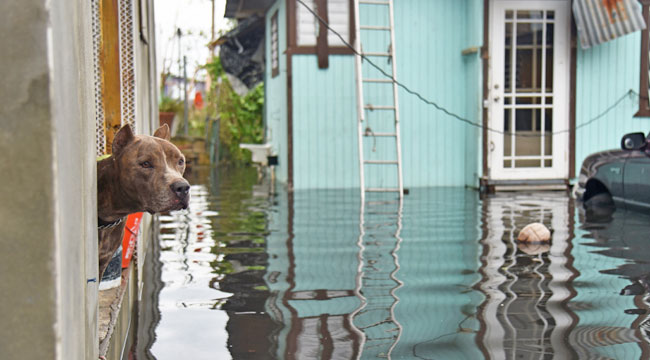 There is a mass exodus out of Puerto Rico as residents flee the devastated U.S. territory a month after Hurricane Maria wiped out much of the island's crucial infrastructure. But as if it weren't hard enough to see their communities destroyed and make the difficult decision to leave home, thousands of Puerto Ricans are being forced to leave their beloved pets behind due to a federal embargo and airline restrictions, as reported by the Daily Beast.
Altering coping with a month without electricity, communications, and clean water, it's understandable why so many Puerto Ricans have made the decision to leave. But a hard decision was made even harder when it was announced that the number of pets in cargo on flights out of Puerto Rico would be limited, and that no pets over 20 pounds would be allowed to fly. One estimate suggests that of the nearly 30,000 people who have fled Puerto Rico so far, 2,000 have left pets behind due to the federal restrictions.
"I understand that most planes coming from the U.S. to Puerto Rico are filled with goods, but what bothers me most is that planes leaving the island are mostly empty. Why take custody of an empty cargo?" asked Sylvie Bedrosian, president of Pet Friendly Puerto Rico. The pet ban is tide up in an order giving the feds custody of all air cargo space, even on the way back to the mainland when planes are carrying refugees.
Somehow, only one airline seems to have found a way to dodge the ban. United Airlines claims that they're able to transport pets until October 31st. The federal ban even impacts private animal transport companies like United PetSafe, which has had to temporarily suspend its flights to San Juan. Bedrosian explained, "our animal shelters were already at full capacity before the hurricane and now beginning to feel the burden that María left behind."
Some shelters have closed when their staff left the island, forcing other shelters to take in the overflow. Animals are affected by the same lack of electricity and clean water that has caused humans to flee, and shelters are having to ration dog and cat food and other supplies. Now shelter workers are not only searching the streets for lost and abandoned pets, they're having to pick up from airports, too, as owners make desperate last minute decisions about which pets they can take and which they have to leave behind.
(Via The Daily Beast)