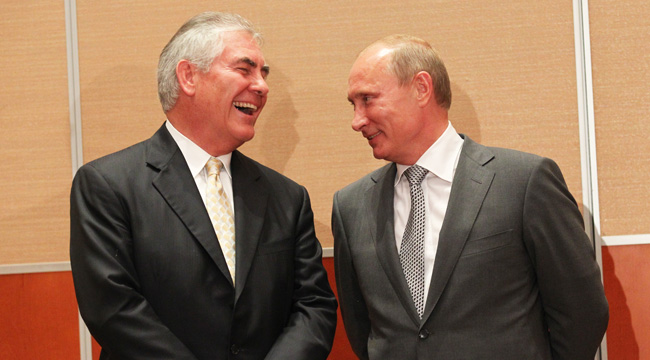 The above photo shows Russian President Vladimir Putin and Secretary of State Rex Tillerson enjoying a laugh at a 2011 signing ceremony between ExxonMobil (previously run by Tillerson) and Russian state-owned oil giant Rosneft. This jolly gesture won't be happening again, at least not anytime soon. In other words, the love between Donald Trump and Russia has turned to spoiled milk after Trump's missile strike on a Syrian airbase, and Tillerson won't receive the full welcome mat during his upcoming planned trip to Moscow.
This hostile progression comes after Putin immediately denounced the strike as "an act of aggression." The talk went further on Monday with Russia issuing a joint statement with Iran that included a threat of both countries "respond[ing] with force" to future U.S. military action in northern Syria. This will obviously impact some existing counterterror ops in the country, but in the meantime, Tillerson isn't meeting with Putin like his predecessor, John Kerry. Reuters has the details from the Kremlin:
The Kremlin said on Monday that U.S. Secretary of State Rex Tillerson will not meet President Vladimir Putin when he visits Moscow on Wednesday, a move that could point to tensions over a U.S. missile attack on a Syrian air base last week.

Putin's spokesman, Dmitry Peskov, told reporters on Monday that no such meeting was planned, suggesting Tillerson will follow strict diplomatic protocol and only meet his direct counterpart, Russian Foreign Minister Sergei Lavrov. "We have not announced any such meetings and right now there is no meeting with Tillerson in the president's diary," Peskov told reporters on a conference call.
Reuters makes pointed mention of how Kerry met with both Putin and Peskov while in Moscow, and Putin previously seemed fine with Tillerson (as evidenced by the above photo), but he's no longer interested in shaking hands for the cameras. This snub is arriving in spite of Putin previously handing Tillerson the Order of Friendship award in 2013. Of course, Tillerson himself may not have helped matters by calling Russia "incompetent" on Sunday because the country hasn't helped ensure Syria would destroy chemical weapons as agreed years ago. Whatever the case, it sure looks like we won't see Putin visiting the White House anytime soon!
(Via Reuters)