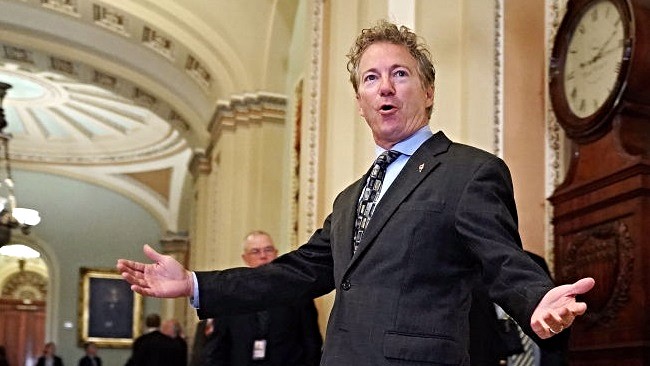 On Wednesday, Senator Rand Paul of Kentucky took to Twitter for the second time since his neighbor allegedly attacked him over what the assailant's lawyer claimed was a "trivial" matter. Speaking on behalf of his wife and himself, Paul previously tweeted their appreciation for "the overwhelming support after Friday's unfortunate event." His second tweet began with more of the same, though the Senate Republican did offer a brief update on his condition, which is apparently worse than prior reports indicated.
"I appreciate all of the support from everyone," wrote Paul. "A medical update: final report indicates six broken ribs & new X-ray shows a pleural effusion." So instead of the five broken ribs initially reported, the senator was actually recovering from six. As for the "pleural effusion" revealed by subsequent x-rays, this is defined as an excess of fluid around the lungs — a condition often caused by intense physical trauma.
This past weekend, Paul was apparently attacked near his home by a neighbor named Rene Boucher. The latter was arrested and charged with misdemeanor fourth-degree assault, and since then, additional reports regarding the severity of Paul's injuries and the so-called "trivial" reason for the incident have been forthcoming. Despite a local NBC affiliate's initial claim that the attack was "politically motivated," however, that still does not seem to be the case.