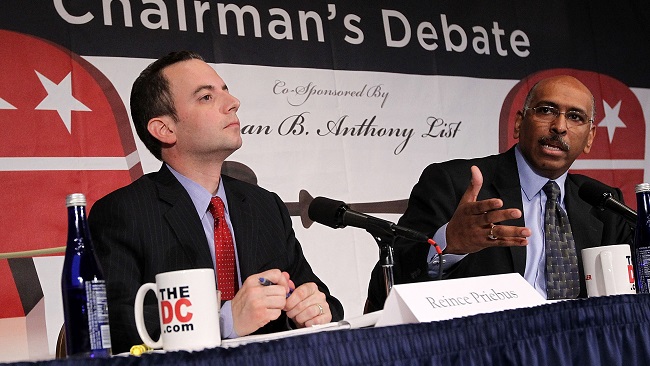 Despite being left out in the rain (and on the tarmac) following his tweeted resignation, Donald Trump's ousted chief of staff, Reince Priebus, has refused to "get into the mud" with reporters. Even so, the former Republican National Committee chairman's public humiliation hasn't ended there, as reports about his emasculated role in the White House and continued mistreatment at the hands of Anthony Scaramucci (before his own ousting, at least) and his allies haven't abated in the slightest. And to make matters worse, a recent article by The Atlantic cataloging Priebus' downfall also included a few jabs by a former GOP ally he famously betrayed.
Michael Steele, who served as the RNC chairman before his general counsel, Priebus suddenly turned on and ran against him for the spot, spoke with the magazine about the latter's resignation. "This is the bed Reince has been making for himself since he was my general counsel," said Steele. "He's a guy who's always positioning himself for the next thing. Karma's a bitch, ain't it?"
Steele's tenure as chair, which began in January 2009 following Barack Obama's presidential inauguration, was plagued with problems. GOP stalwarts made headway during the 2010 midterms following the buildup to, and largely partisan passage of, the Affordable Care Act. Unfortunately for Steele, however, the Republican reaction to Obamacare's success wasn't strong enough to save his standing — especially when Tea Party activists and other, more extreme corners of the right began lobbying against him and other lead party members. Seeking an opportunity to advance, Priebus surprised his colleague by running against him.
(Via The Atlantic)