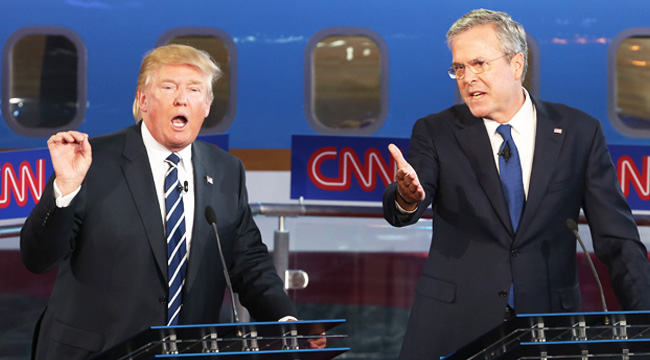 It's no secret a number of Republicans are not fans of their presidential nominee Donald Trump. The voting public has been vocal on social media, and some prominent party members are beginning to denounce the nominee, but the Trump campaign may be hit in the place where it counts most; the bank account.
As The New York Times reports, a number of major Republican donors have decided to cross the aisle and support Hillary Clinton for president. Donors who have donated at least $200 to Jeb Bush, John Kasich, Chris Christie, and Senator Lindsey Graham during the Republican primaries are now giving their hard earned cash to the Democratic presidential nominee. Instead of backing their party's nominee unconditionally, these donors don't fully trust the new Trump GOP.
Clinton has received $2.2 million from former Republican backers — more than $600,000 more than Trump has received from the same sort of donors. Donors have usually given a high percentage to the Republican nominee, but Trump's donations from major opponent supporters is only at 2 percent.
Donations can be the lifeblood of a campaign, but they likely won't make or break an election. And the two nominees have still brought in a staggering amount of money, with Trump bringing in $82 million in July and Clinton garnering $90 million during that time. But Trump may be alright in the end if that foolproof donation system keeps happening.
(Via The New York Times)