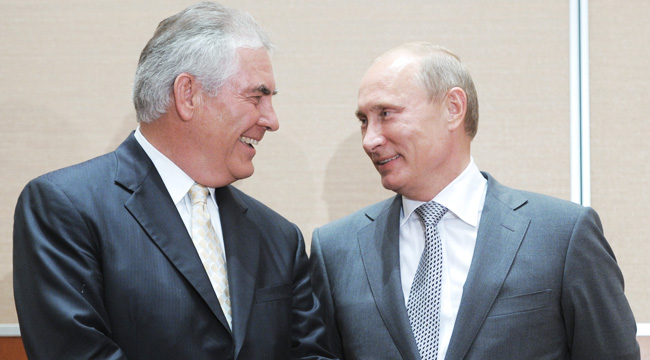 About a week ago, Donald Trump officially selected Rex Tillerson as his Secretary of State. The ExxonMobil CEO's strong ties to Russia were no secret, as Tillerson has publicly met with Putin a number of times. This includes the above photo, which was snapped in 2011 as the two clinched a partnership agreement for arctic oil exploration between ExxonMobil and Rosneft, an oil company owned by the Russian government.
Tillerson's status as a Putin ally could create issues when it comes time for Senate confirmation, especially given that Russia gleefully hacked the election in an effort to score a Trump victory. The Guardian now digs into a newly leaked 2001 document, which shows that Tillerson is the "long-time director" of a U.S.-Russia oil Company, which has been running out of the Bahamas:
The leaked 2001 document comes from the corporate registry in the Bahamas. It was one of 1.3m files given to the Germany newspaper Suddeutsche Zeitung by an anonymous source. The registry is public but details of individual directors are typically incomplete or missing entirely.

Though there is nothing untoward about this directorship, it has not been reported before and is likely to raise fresh questions over Tillerson's relationship with Russia ahead of a potentially stormy confirmation hearing by the US senate foreign relations committee.

ExxonMobil's use of offshore regimes — while legal – may also jar with Trump's avowal to put "America first."
An Exxon spokesperson told The Guardian that the decision to incorporate in the Bahamas was not made to "reduce tax in the country where the company operates" but rather for "simplicity and predictability."
Tillerson holds no political experience but has made his name through four decades in the oil industry. He's made deals in about 50 countries, so he's a Trump-style negotiator. Some — including John McCain — expressed "concern" over Tillerson's "strong relationship" (to the point where Putin gave him an award) with Russia. The Exxon CEO even condemned sanctions against Russia, so it's hard to believe he'd set aside his friendliness with the country if his new post demanded as much.
None of this info should be shocking, given that Tillerson's Russian ties were public knowledge. However, it does shine some light on the myth of Trump's Secretary of State selection process. Supposedly, the president-elect simply wasn't satisfied with Rudy Giuliani or Mitt Romney and was jolted into awareness by an offhanded mention of Tillerson. Trump was also so impressed by how Tillerson used the back door of Trump Tower to avoid the press. Add the fact that Tillerson is a business titan, and the deal was sealed.
Also, the Russia thing didn't hurt his chances. Not at all.
(Via The Guardian, Washington Post & Politico)