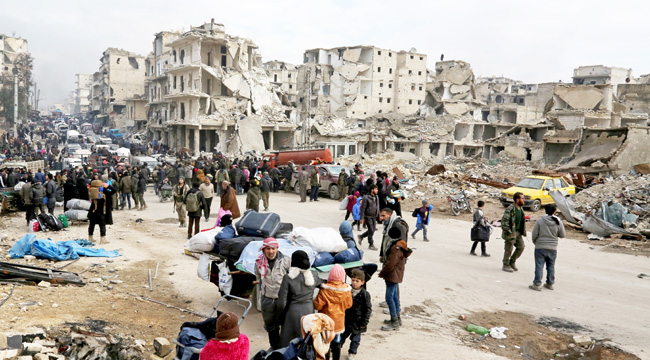 On Sunday, a United Nations Security Council meeting saw a confrontation over Syria between Russian envoy, Vitaly I. Churkin, and other members. Churkin says Russia will block the UN from sending monitors for the Aleppo evacuation following last week's ceasefire failures, which have largely kept Aleppo civilians from leaving the besieged city as promised. Evacuation attempts were reportedly greeted with pro-government forces firing upon fleeing Aleppo residents. Execution-style attacks upon convoys full of civilians and rebels were also reported.
Further claims of refugee buses set ablaze show that peaceful resolution isn't on the way, and Russia appears to be resisting UN investigation. This follows Vladimir Putin's support of the Assad regime during the Battle of Aleppo (Russia even carried out airstrikes on humanitarian aid trucks). Following the botched evacuation attempts, top Syrian envoy Staffan de Mistura asked the Assad government to allow UN monitors into Aleppo. The New York Times has more details on Russia's resistance:
The Council is scheduled to vote Sunday on the resolution, which was drafted by France and which the French ambassador, Francois Delattre, described as an effort to prevent a blood bath — "another Srebrenica," he said, referring to the massacre of civilians in that besieged city in Bosnia during the Balkans war more than 20 years ago.

The resolution calls on the United Nations to carry out "adequate, neutral monitoring" and report to the Security Council on their findings. It has the backing of the United States.

The Russian envoy, Vitaly I. Churkin, said he objected to the idea of telling United Nations humanitarian staff members to "go wander around the ruins of Aleppo without proper preparation." He told reporters on the way into the Security Council chambers: "It has disaster written all over it. This is a provocation."
Presently, the only monitors allowed into Aleppo hail from the International Committee of the Red Cross (ICRC) in conjunction with the Syrian Arab Red Crescent. These monitors don't report to the UN, which has seen several Western ambassadors accuse Russia of "barbaric" war crimes during the Battle of Aleppo. It's no wonder that Russia is dragging its feet, but Security Council negotiations shall continue.
(Via New York Times & CNN)