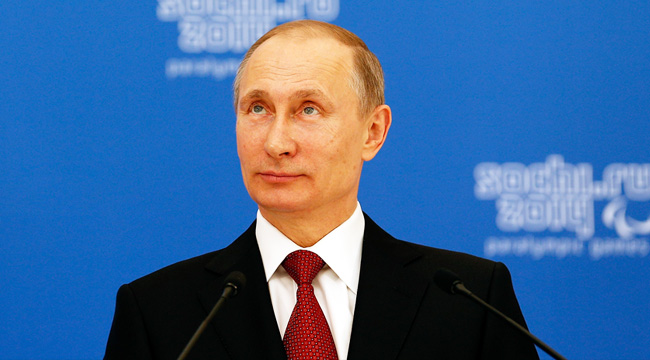 Provided he found lodgings in Hamburg and does not cancel after footage of their rigid greeting surfaced, President Trump will meet with Russian president Vladimir Putin for the first time since taking office. What those two are set to discuss is anyone's guess (hackers targeting nuclear facilities?), but the meeting is coming at awkward time as the U.S. intelligence community continues to investigate Russian meddling in the 2016 election, and Russian spies keep ramping up their spying efforts in the U.S.
According to a new CNN report, Russian spies are aggressively engaged in intelligence-gathering operations and have been "emboldened by the lack of a significant retaliatory response from both the Trump and Obama administrations." Here's more:
"Russians have maintained an aggressive collection posture in the US, and their success in election meddling has not deterred them," said a former senior intelligence official familiar with Trump administration efforts.

Since the November election, US intelligence and law enforcement agencies have detected an increase in suspected Russian intelligence officers entering the US under the guise of other business, according to multiple current and former senior US intelligence officials. The Russians are believed to now have nearly 150 suspected intelligence operatives in the US, these sources said.
The report notes that that number is nearly three times the number of Russian diplomats kicked out of the country by the Obama administration in December. Further, according to one former intelligence official, Russia has "a lot more" spies in the U.S. compared to other countries in which it operates. Moreover, the spies are actively trying to turn Americans who may have access to classified information into assets and have even tried (and potentially succeeded) to gain employment at places where sensitive information is present.
The issue has been compounded by the State Department continuing to issue temporary duty visas to suspected Russian intelligence officers, despite the findings of the U.S. intelligence community. Weird!
According to a former State Department official, it's complicated. Rear Admiral John Kirby says that a specific reason is needed to deny a visa:
"Sometimes they bring people over on legitimate business only, that's true. But sometimes the spies they send over here come wrapped inside the veneer of legitimate business. They blur those lines pretty well. And that's one way they try to get around the visa issue."
The U.S. has been able to identify some of the suspected Russian intelligence officers through routine surveillance, which has been hampered by some Russians violating diplomatic protocol by traveling outside the Washington, D.C. area without informing the State Department.
Also, President Trump's "reluctance to accept intelligence conclusions about Russia's meddling in the election" has hamstrung the intelligence community's ability to counter Russia's brazen activity.
If President Trump still needs a talking point for today's big meeting, this one would offer a good start.
(via CNN)