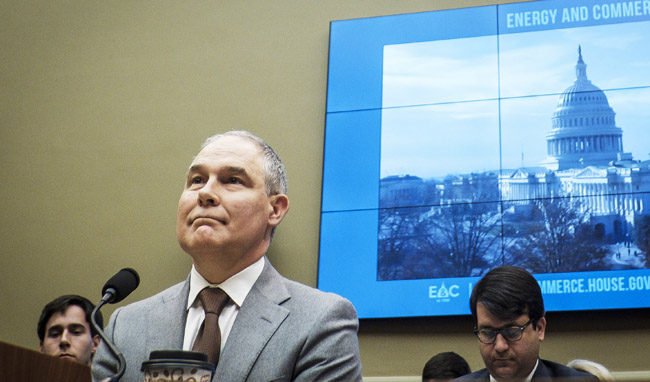 Environmental Protection Agency Chief Scott Pruitt has come under scrutiny for using a loophole in the Safe Drinking Water Act to give hefty raises to two of his favorite aides — after he was denied a request from the White House. Sarah Greenwalt, 30, and Millan Hupp, 26, came to Washington, D.C. with Pruitt from Oklahoma where he had served as attorney general, to serve as his senior counsel and scheduling director, respectively.
Pruitt had requested for Greenwalt's salary to be raised from $107,435 to $164,200, and Hupp's from $86,460 to $114,590, which he required White House approval for since both women were political appointees. After the pay increases were shot down however, he found another way.
A provision of the Safe Drinking Water Act allows the EPA administrator to hire up to 30 people into the agency, without White House or congressional approval. The provision, meant to help expedite the hiring of experts and allow for more flexible staffing, became law in 1996. In past administrations, it has been used to hire specialists into custom-made roles in especially stressed offices, according to Bob Perciasepe, a former acting EPA administrator.
Neither aides duties changed whatsoever, and when word began to get around the agency it allegedly infuriated staffers. One anonymous official told The Atlantic, "This whole thing has completely gutted any morale I had left to put up with this place."
While Greenwalt had no exact equivalent in the previous administration (the EPA's general counsel made $155,500 in 2016), Hupp is making more than her her Obama-era predecessor who worked with the EPA for five years and didn't even break six figures until Obama's final year in office.
"I can't imagine that being done in the regime in which I served," said Stan Meiburg, a former acting deputy administrator of the EPA in the Obama administration. "It would have been very controversial. The accusation that would have been pinned on the administrator was that they were trying to give a private benefit using public funds."
The news comes on the heels of inquiries over a Capitol Hill condo Pruitt rented from the wife of a registered fossil-fuels lobbyist for just $50 per night — but only when he physically occupied the property.
An EPA agency ethics official ultimately found that the lease didn't violate federal ethics rules, however given that Pruitt paid an average of about $1,000 a month to rent the apartment in a neighborhood where comparable properties lease in the $3,000s and $4000s, it certainly raised some eyebrows.
Suffice to say, on top of the apartment controversy, the sneaky hiring loophole business is certainly not helping Pruitt's case in the court of public opinion.
(Via The Atlantic, AP)