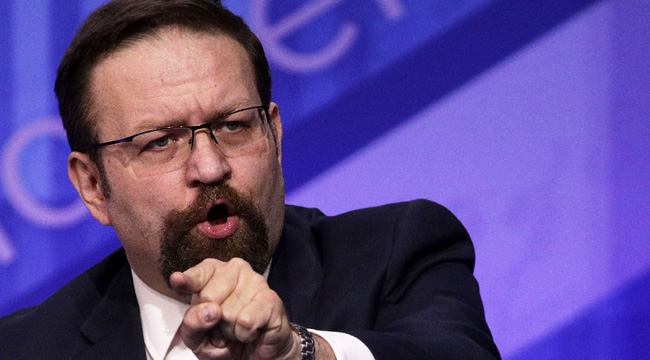 Although President Trump made his suddenly ambivalent thoughts on Steve Bannon known a few weeks ago, the former Breitbart head honcho somehow managed to put his head down and — as of now — is sticking around. This may be the key to longevity since Trump hates losing the spotlight to an underling, and with Bannon's situation seemingly stabilizing, another controversial Trump aide, Sebastian Gorka (an outspoken proponent of Trump's first Muslim ban), will reportedly exit that White House.
Gorka's place within the Trump administration has remained nebulous but is believed to have involved advising the president on national security. Yet the past several weeks have seen plenty of buzzing over his alleged connections to multiple Nazi groups in Hungary (as recently as a decade ago). Gorka was even criticized for wearing a medal that's closely associated with Nazi sympathizers, and he went ballistic and threatened to use his White House clout to take down someone who questioned whether he truly held a PhD.
The Washington Examiner reports (and CNN confirms) that he'll no longer enjoy such White House "perks" because he's being quietly sent to another job in the federal government:
Gorka's new role will deal with the "war of ideas" involved in countering radical Islamic extremism, a senior administration official said, and will entail an appointment to a federal agency.

Gorka has served for months on the Strategic Initiatives Group, an internal organization within the White House, and as a national security adviser. His exit from the White House comes amid increased speculation that a reported lack of a security clearance prevented him from fully performing in his job.
The Washington Examiner also relays word from a few White House sources. One of them downplayed Gorka's involvement (an already classic move in this administration) while saying that Gorka's role on the Strategic Initiatives Group was "always meant to be temporary." Another source said he had no idea what Gorka did for Trump: "This guy has always been a big mystery."
At this time, the sources emphasize that Gorka won't be working for the State Department but for an unknown federal agency. He has continued to deny ties to all Nazi or anti-Semitic organizations.
(Via Washington Examiner & CNN)