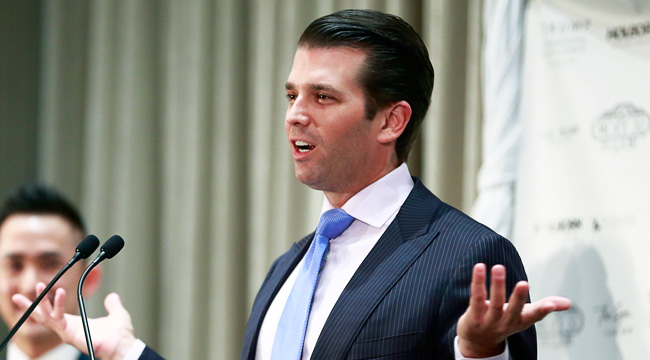 On Sunday morning, Trump attorney Jay Sekulow issued the latest bonkers attempt to shift blame for Donald Trump Jr.'s meeting with a Kremlin-connected lawyer. Of course, nothing can change how bloody excited Don Jr. appeared in those self-released emails over the prospect of scoring dirt on Hillary Clinton, but Sekulow tried to pin the blame on the Secret Service while suggesting that the meeting was vetted and therefore not "nefarious."
Sekulow claimed that the president (and by extension, Trump Tower) was under Secret Service protection when the June 2016 meeting took place. It was a suggestion almost as weak as when President Trump accused Loretta Lynch of being responsible for attorney Natalia Veselnitskaya's visa (an impossible feat because the State Department, not the attorney general, issues visas). Very quickly, the Secret Service has rejected Sekulow's justification for the Don Jr. meeting because no such screening took place:
In an emailed response to questions about Sekulow's comments, Secret Service spokesman Mason Brayman said the younger Trump was not under Secret Service protection at the time of the meeting, which included Trump's son and two senior campaign officials.

"Donald Trump, Jr. was not a protectee of the USSS in June, 2016. Thus we would not have screened anyone he was meeting with at that time," the statement said.
Well, that's about as clear cut of a rejection that one can possibly paint, and perhaps Trump will issue a very grumpy tweet about this in his next tweetstorm. However, he can't get too mad at the Secret Service. They're doing his bidding now, including an interrogation of Kathy Griffin over her ill-advised photo of a faux-Trump beheading. Because priorities.
(Via Reuters)