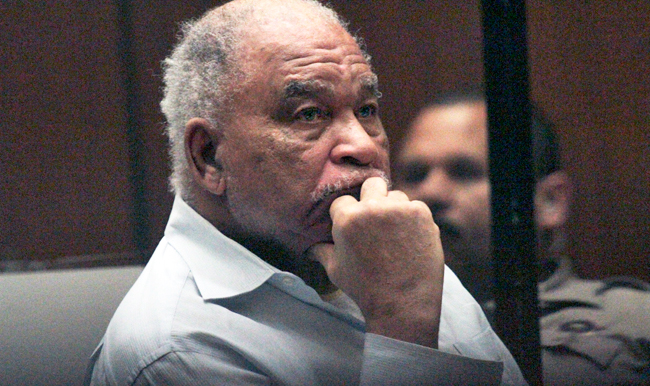 Most people are familiar with notorious serial killers such as the Golden State Killer, recently revealed to be 72-year-old Joseph James DeAngelo; or the Zodiac killer, whose identity is still unknown and who possibly still remains at large. However, perhaps the most prolific serial killer in the history of the United States, who allegedly murdered at least 90 women, moved freely about the country for decades undetected.
As detailed by the New York Times, Samuel Little, a 78-year-old man who has spent the past four years in prison serving three life sentences for the killings of three women in Southern California in the '80s, recently confessed to the murders to a Texas Ranger named James Holland who visited him in Los Angeles County prison. He's since been transferred to Ector County, Texas, where he is currently being held after being indicted by a grand jury for a 1994 killing.
Authorities believe Little killed over 90 women in at least 14 states, and have connected his claims to around 30 murders so far, thanks to specific details that only the killer would know. And given all Little has volunteered so far, investigators have few reasons to doubt his other confessions. Little would allegedly pick up the women from bars or nightclubs, then lure them to his car where he then strangled them. He apparently suffered from erectile dysfunction, and would receive sexual gratification from strangling his victims.
"By the time we are done, we anticipate that Samuel Little will be confirmed as one of the most prolific serial killers in American history," Ector County District Attorney Bobby Bland told the NY Times:
The authorities say Mr. Little displays no sign of remorse while discussing the killings. He is exacting with certain details, they say, including where he left the women's bodies years ago: A dumpster, near a hog pit, under a pecan tree. The investigators say he is matter-of-fact about his actions, and sometimes even chuckles about them; other times, they said, he speaks so quickly, with such excitement, that they struggle to understand his words.

"Believe it or not, you only see evil a few times in your career," said Tim Marcia, a cold case detective with the Los Angeles Police Department, who dealt with Mr. Little on the three killings he was convicted of there. "Looking into his eyes, I would say that was pure evil."
In addition to spreading his murders across the country, part of the reason that Little was never caught was that his victims tended to be poor, alcoholics, or drug addicts — in other words, the type of women whose disappearances often went unreported for some time.
"I can go into my world and do what I want to do," Little told Sergeant Michael Mongeluzzo, a detective from Marion County, Florida, where he had confessed to the 1982 killing of a 20-year-old woman. "I won't go into your world," he continued, meaning that he stuck to areas where poverty, addiction, and crime were all too common.
Investigators aren't exactly sure why Little has chosen now to speak out, but believe his motivation is fueled by his preference to the Ector County jail as opposed to the "noisy, often chaotic" Los Angeles prison system.
(Via New York Times)