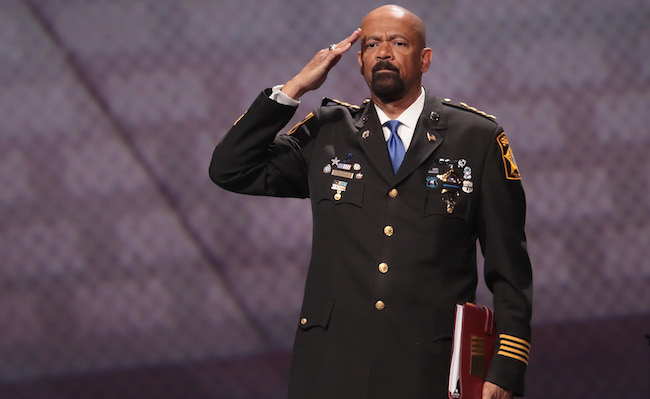 Milwaukee's controversial sheriff and his Stetson are packing it in with the city's police service. Sheriff David Clarke has submitted his resignation and CBS 58 reports the change goes into effect at 11:59 p.m. on Thursday.
Clarke's approach to law enforcement and his support of President Donald Trump have resulted in Clarke getting a lot more press time than police officials in other cities. Unfortunately for Clarke, a lot of that attention has been unflattering in 2017. Damning allegations about prisoner treatment, accusations of harassment and a plagiarism scandal (which led to Clarke withdrawing from a Homeland Security position) have all been navigated by the sheriff who exits during his fourth term.
"After almost forty years serving the great people of Milwaukee County, I have chosen to retire to pursue other opportunities," said Clarke in a written statement concerning his resignation. "I will have news about my next steps in the very near future."
Speculation abounds as to where Clarke and his popularity among Trump supporters might take him. According to the sources CBS News spoke to, Clarke is not joining the Department of Homeland Security. One thing he does have lined up for sure is publicity for his memoir Cop Under Fire. Milwaukee's vacating sheriff pinned a tweet promoting his book on the same day as the resignation news. Hopefully for Clarke, one of those "other opportunities" he's pursuing is a design course. This is not exactly the slickest looking ad in the world.