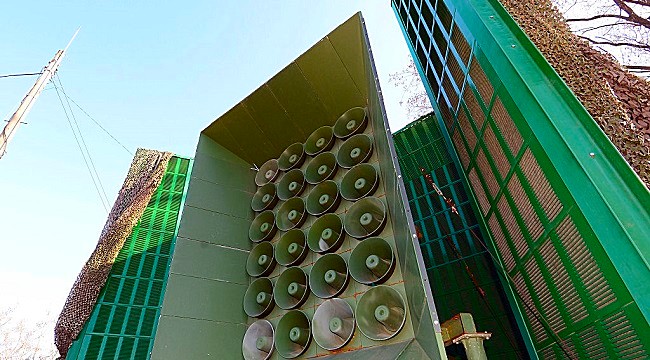 On Monday, South Korea announced that it has stopped broadcasting propaganda and K-Pop music over loudspeakers positioned along the Korean Demilitarized Zone (DMZ). According to the New York Times, the country's Defense Ministry explained it wanted to "ease military tensions and create a peaceful mood" ahead of Friday's inter-Korean summit, the first in over a decade and the first since Kim Jong-un became North Korea's Supreme Leader following the death of his father, Kim Jong-il in 2011.
In a statement, South Korea's Defense Ministry noted that the location for the summit would put participants within earshot of the broadcasts:
The venue — Panmunjom, a "truce village" inside the DMZ — is within the earshot of propaganda broadcasts from both sides.

"We hope that our move today will result in South and North Korea ending mutual slandering and propaganda against each other and creating a peaceful new beginning," the ministry said in a statement.
Over the weekend, North Korea declared that it would suspend all nuclear weapons and missile testing ahead of the summit, which is scheduled to happen on Friday, April 27th. Previously, Jong-un reportedly went so far as to suggest that he was willing to accept "complete denuclearization," according to South Korean President Moon Jae-in. As for the cessation of propaganda broadcasts along the DMZ, the Times notes that while North Korea has yet to reciprocate, South Korea expects them to do so. Considering that Jong-un attended a K-Pop concert in early April, however, maybe he wants to hear some tunes on Friday?
(Via New York Times)