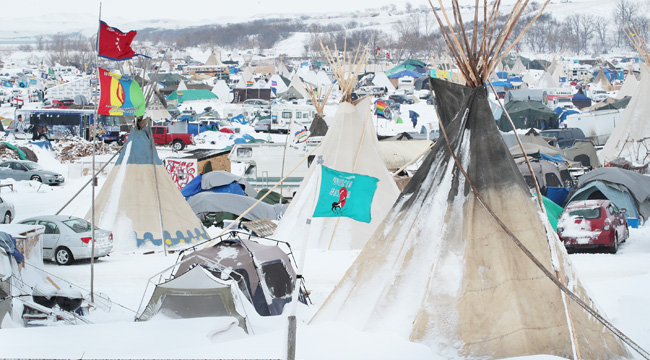 On Tuesday, the Standing Rock Sioux tribe formally requested that a judge block a recent easement issued by the White House, which would allow the final construction phase of the Dakota Access Pipeline. Attorneys for the tribe contend the Army Corps was going to perform a full environmental review of the project before continuing construction, but that didn't happen.
The latest motion argues the Army Corps and the easement are in direct violation of the National Environmental Policy Act, since there has been no environmental impact report issued about the pipeline. The motion accuses Donald Trump of quickly pushing out his relevant executive order to rush the project to completion:
"Within a few days of his inauguration, the new President abandoned this commitment — perpetuating our nation's pattern of broken promises to the Tribe — and directed the Army to 'review and approve' pipeline permits on an expedited basis."
This may be the tribe's last chance to block the pipeline, which has been a long effort. The easement provides for 1.25 miles of the pipeline to run under the Missouri River, upstream of the tribe's land. Numerous demonstrators have turned up to protest the pipeline, which could impact its drinking water. The tribe scored a victory when President Obama paused construction pending an environmental review, but that now looks be dashed after Trump's executive order.
Standing Rock Sioux Tribe Chairman Dave Archambault II said the pipeline will be "dangerous" to those that live in the area:
"President Trump claims he has not received 'a single phone call' opposing this widely criticized project. Maybe he should turn the White House phones back on because millions of people have raised their voices against this dangerous project."
However, the $3.7 billion project is now almost complete. Energy Transfer Partners, the company bankrolling the project, said they have about 60 days of construction left until the pipeline is done.
(Via NBC News)