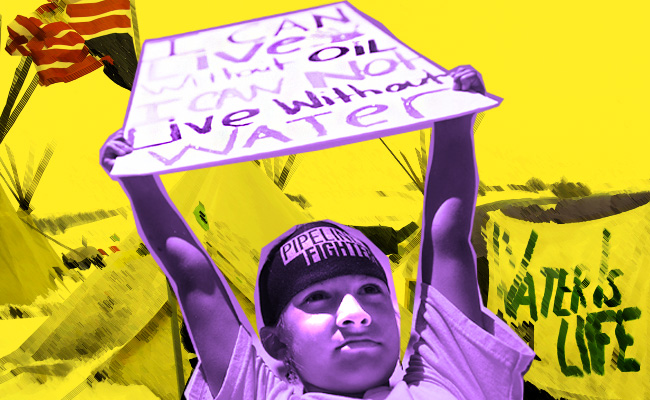 The election of Donald Trump continues to provide ripe fodder for the media while pulling focus from an important saga taking place up in North Dakota, where the Standing Rock Sioux Tribe has been leading an ongoing battle over water rights and the preservation of what the tribe considers to be sacred land. Though the Dakota Access Pipeline construction is a relatively new development, it touches upon a conflict that has been brewing for centuries, and those known as "water protectors" are now displaying unprecedented resistance.
Though the mainstream media coverage of the ongoing movement has been sparse, the effects may be historic. The Sioux and their supporters have been greeted with not only tear gas from riot-gear clad officers but attack dogs, rubber bullets, and even water cannons that have been deployed in below-freezing weather. The latter method may cost one woman her arm after it was, according to her family, nearly blown off her body. And on Monday, several protesters filed an excessive force lawsuit against law enforcement officials.
It's worth noting that the protests have been characterized by authorities as "riots" despite no weaponry being carried by the Native Americans. All known attacks have been carried out by either government-sanctioned forces or the pipeline construction crews. This violence began in September and continued throughout Thanksgiving weekend in a manner that's almost as ironic as the contemporary holiday celebrations themselves.
Standing Rock contends that the pipeline will destroy sacred burial ground and not only contaminate their water supply but the drinking water of millions of other U.S. citizens. These fears are not unfounded. The Pipeline and Hazardous Materials Safety Administration has recorded 3,300 oil and gas pipeline leaks in the U.S. since 2010. On average, that's more than one leak per day, and one must also consider the size of this project. According to the Dakota Access Pipeline fact sheet, the finished project would transfer up to 570,000 barrels of crude oil each day.
For perspective's sake, the Yellowstone River fell prey to a January breach in the Poplar pipeline system, which transfers about 42,000 barrels per day. This disaster dumped 1,200 barrels of crude oil daily into the water. A breach from the Dakota Access Pipeline could be at least ten times worse. Even a small spill would contaminate the river, and a large spill would be catastrophic. Beyond water, which is life, there's the question of treaty violation, which only reinforces the centuries of mistreatment known by Native Americans.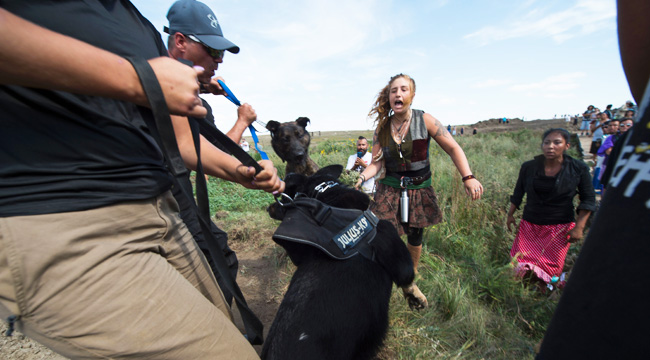 Allegations Of Treaty Violations
The overarching issue of Native American sovereignty runs parallel to environmental concerns here. The crude oil pipeline began as a mammoth $3.8 billion project, which would stretch 1,172 miles from North Dakota's Bakken oil fields and traverse through South Dakota and Iowa all the way to Illinois. Notably, the original path would have crossed the Missouri River near Bismarck. However, this predominantly white city rejected the path out of oil-spill fears. So, the project rerouted the point of water crossing southward, which lands just north of Standing Rock's reservation. In response, the Sioux established a camp on the Missouri River's banks in April.