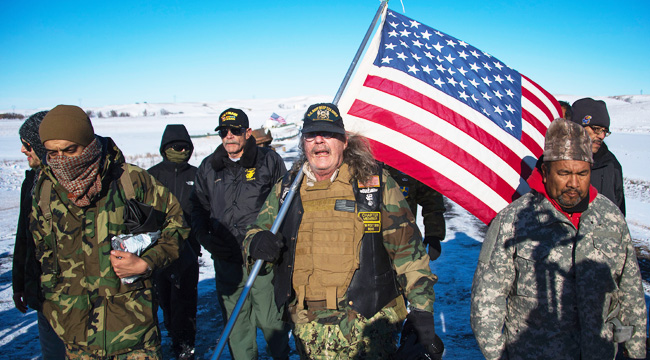 On Sunday afternoon, Veterans For Peace made good on their promise to stand with Standing Rock against the Dakota Access Pipeline project. At least 2,000 veterans flooded the Bismarck airport, where they hopped into vehicles and headed to the encampment. The group's arrival coincides with the U.S. Army Corps of Engineers' deadline for mandatory evacuations to begin on Monday, December 5. The veterans aim to act as "human shields" between protesters and authorities.
The group, mobilizing as Veterans For Standing Rock, shall be led by Wesley Clark Jr. (the son of the retired general and former presidential candidate). They join over 4,000 demonstrators, who have shown no intention of vacating their encampment after months of water protection efforts, which have prompted the largest tribal gathering in over a century. Despite the harsh weather conditions at hand, the Sioux and their supporters have vowed to remain through the winter.

This digging in of heels also occurs despite brutal tactics by authorities — including water cannons, tear gas, and rubber bullets — and Dakota Access crews (who deployed attack dogs) to remove them. Mic spoke with veteran Eric Lobo, who says his group has been through much worse and is fully prepared: "The people need help, and this is the spot to be in the struggle to save the damn planet."
These photos showing the veterans' arrival are pretty incredible.
The Standing Rock protesters await a decision by the Obama administration on whether to reroute the project (again). Meanwhile many musicians of varying stripes have rallied for increased public support of this movement.