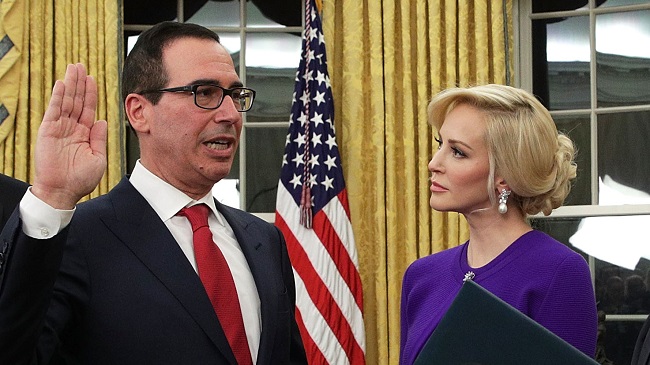 Since early 2017, several Trump cabinet members have been called out for exorbitantly splashing out on private flights and military jets. Tom Price resigned as health secretary after criticism over his $400,000 tally on air travel, and Treasury Secretary Steven Mnuchin has somehow racked up more than twice Price's total. A government watchdog, Citizens for Responsibility and Ethics in Washington (CREW), has gathered documents to show that Mnuchin (and at times, his wife, Louise Linton) have spent $1 million on military jets.
Mnuchin, who is worth $300 million due in part to his Suicide Squad-producing efforts, has come under fire on previous occasions for the same offense. He reportedly nabbed a government plane for his European honeymoon, and he also did so while traveling with Lindon to view the solar eclipse in Fort Knox, Kentucky. The cost of that trip? $33,000.
CREW Chief FOIA Counsel Anne Weismann issued a statement:
"From the documents we obtained, it appears Secretary Mnuchin considers first and foremost his own comfort and ease, leaving the protection of taxpayer money at the bottom of his list of priorities … The public still has no reasonable explanation for why Secretary Mnuchin apparently has never used commercial aircraft while his predecessors did, or why he needs military aircraft that can accommodate 120 passengers when his travel manifests contain far fewer names."
The total cost, amazingly, covers a mere seven military aircraft flights by Mnuchin, and you can see the full detailing here, which is nothing but bad news for the treasury secretary. Back when Price resigned, he did so after President Trump told reporters that he was "not happy" with his massive flight bill, so someone will likely be summoned to the Oval Office soon. Between Mnuchin's exploits, Ryan Zinke's $130,000 office doors, and Ben Carson's $31,000 dining set, perhaps they can make it a group meeting?
(Via CREW)