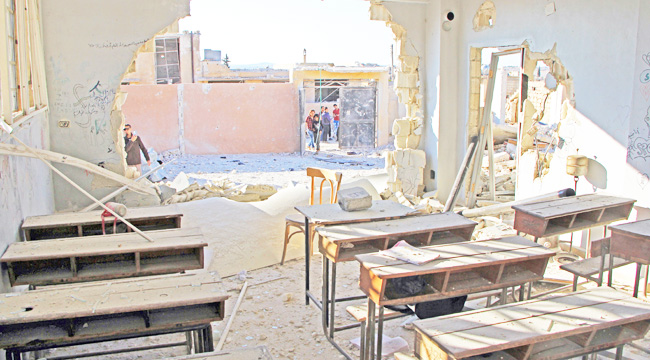 In war-torn Syria, much of the recent conflict has taken place in Aleppo, where the city's rebel-held districts see daily and ongoing air strikes from Russian and Syrian forces. Now, the village of Hass — located in Northern Syria's rebel-held Idlib province — has seen an almost unspeakable horror. An air strike battered a school district in what could qualify as the deadliest attack of the 5-year Syrian civil war. The above photo shows a destroyed classroom, and the attack reportedly killed 35 people, including 22 children. CNN reports that the death toll is likely to increase.
Syrian President Bashar Al-Assad has continued to project an attitude of denial over his people's plight. He's even insisted that an instantly infamous photo of a bloodied boy in an ambulance is fake. But children are very much victims of this conflict, and The Guardian brings word that a senior UN official calls the school attack a "war crime." The UN's children's agency echoes the sentiment:
"This is a tragedy. It is an outrage. And if deliberate, it is a war crime," said Unicef's executive director, Anthony Lake, commenting on the Idlib bombing.

"This latest atrocity may be the deadliest attack on a school since the war began more than five years ago," he added. "Children lost forever to their families … teachers lost forever to their students … one more scar on Syria's future. When will the world's revulsion at such barbarity be matched by insistence that this must stop?"
According to Yahoo, six strikes were carried out by "warplanes — either Russia or Syrian" on the school. Russia's UN Ambassador, Vitaly Churkin, has responded to the tragedy: "It's horrible. I hope we were not involved." Already, Russian Foreign Ministry Spokeswoman Maria Zakharova has denied involvement: "The Russian Federation has nothing to do with this terrible tragedy, with this attack."
At this point, the U.S.-Russia brokered Syrian ceasefire feels like a distant memory, although it's been less than two months since the deal was drawn. Recent attacks on Aleppo have seen the U.S. accusing Russia of bombing aid trucks, but Russia agreed to attempt a humanitarian "halt" in Aleppo after one airstrike took out a family of 14. Despite these temporary efforts, many worry that Aleppo could soon be wiped off the map. The children of Aleppo now meet in underground schools, which will likely now happen in Hass too.
(Via CNN, Al Jazeera, The Guardian & Yahoo)