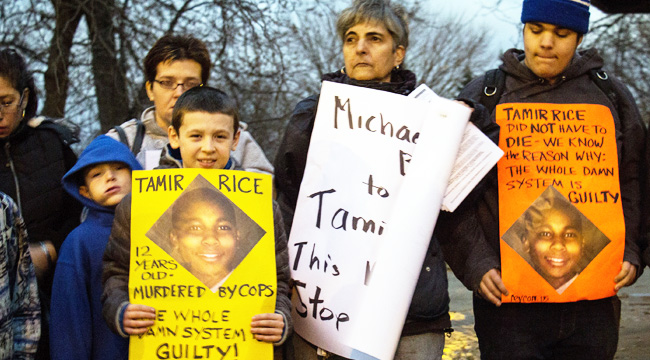 In December 2015, a grand jury ruled against bringing criminal charges for the 2014 fatal shooting of 12-year-old Tamir Rice. This decision arrived despite incriminating surveillance footage, which showed an officer gunning down the boy, who was playing with an Airsoft pellet gun in a Cleveland park. Faced with a lack of criminal justice and aided by a national sense of outrage, the Rice family filed a wrongful death lawsuit against the city.
A U.S. district court has now determined that Cleveland most pay Rice's family $6 million. This amount, which is the latest in a series of similar national verdicts, stems not only from the officer's reckless behavior, but also for the intentional infliction of emotional distress upon Rice's family. Not only did an officer fire shots upon the boy within seconds of arriving at the park, but police also did not administer proper first aid. In the aftermath, Rice's mother, Samaria, alleged that she was treated poorly by the department. The settlement's terms dictate that "the city does not admit wrongdoing," but the circumstances of Rice's death are not in dispute:
The officers had responded to a 911 call in which a man drinking a beer and waiting for a bus outside Cudell Recreation Center reported that a man was waving a gun and pointing it at people. The man told the call taker that the person holding the gun was likely a juvenile and the weapon probably wasn't real, but the call taker never passed that information to the dispatcher who gave [Officers] Loehmann and Garmback the high-priority call.
Throughout the lawsuit, the shooting officer's attorney requested dismissal, citing the lifelong burden he will carry for his mistake. The court felt differently, as this case has illuminated a long-standing issue of police brutality against black residents.
The suit's settlement terms dictate that $3 million will be paid this year, with the rest arriving in 2017. Of the total amount, $5.5 million will go into Rice's estate and both his mother and sister will receive $250,000 apiece. A federal civil-rights investigation into the incident remains ongoing.
(Via Cleveland.com and New York Times)