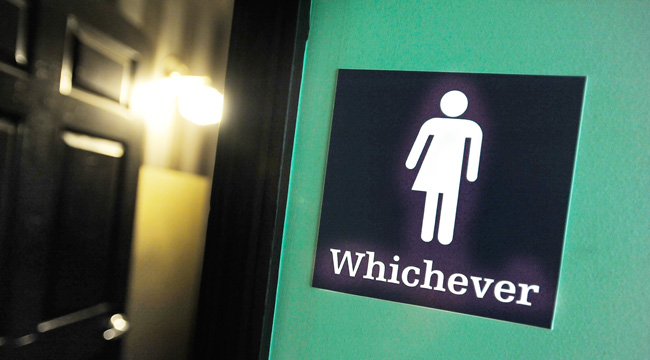 The economic effects of North Carolina's anti-LGBT bathroom bill (HB2) will last for years. Overall, the discriminatory law prompted enough boycotts (ranging from sports leagues to entertainment acts along with corporate investment) to seal the deal on nearly $4 billion in lost revenue. The state's latest hits include an anti-gay marriage bill plus the stripping of minority school and STEM funding while the Supreme Court didn't even have words for the state's voter ID law. All of this shows how the North Carolina GOP still hasn't learned its lesson, and guess which state's following this example on the LGBT front? Texas, of course.
Back in 2016 when anti-LGBT bathroom bills littered the country, Texas was one of more than 20 states to pursue such a goal. Most states' legislatures ultimately did not pass these bills into law, and North Carolina went down in fiery fiscal flames on its own. But Texas? The GOP-led legislature still wants to pass its bill before next week, which is when — get ready — lawmakers will peace out until 2019. Via ABC News:
Republican Gov. Greg Abbott said Thursday enough time remains for lawmakers to strike a deal. He said Texas must address student "privacy, safety and security" but didn't say how far a bill must go — including whether it must require transgender people to use bathrooms that correspond with the sex on their birth certificate.

Hours later, the state Senate rejected a version of LGBT restroom restrictions meant to apply only to public schools that the House passed last weekend, and asked for a conference committee. The Senate previously approved broader rules requiring all transgender Texans to use public restrooms corresponding to the genders on their birth certificates, and those differences will have to be reconciled.
The Texas House and Senate are still feverishly attempting to agree on exactly how far this bill will extend — only in public schools or within every public restroom — and no matter what they come up with, the Texas GOP is determined to drive off the cliff. Governor Abbott (who compared trans bathroom rights to the moon landing last year) doesn't appear to see the fate of ousted North Carolina Gov. McCrory as a warning sign. This should be no surprise, for Abbott has recently grown so emboldened by the Trump presidency that he recently banned sanctuary cities on Facebook Live.
However, Fortune has published an analysis that shows how Texas has a lot to lose if the state's GOP passes this bathroom bill. As one quick example, a pull out from the 2018 NCAA Final Four tournament would cost the Lone Star State close to $250 million. That's only one event, and since *everything* is bigger in Texas, the state could crash even harder than North Carolina.