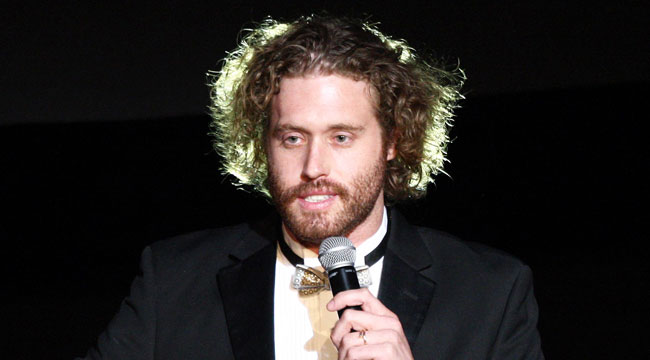 The current climate has made sexual misconduct an unavoidable subject in Hollywood, and while Matt Damon is promoting Downsized by setting mouths agape with his own questionable comments regarding Harvey Weinstein, a very graphic account has emerged regarding former Silicon Valley star T.J. Miller. The Daily Beast has published a collection of harrowing claims from a former college girlfriend of Miller known only as "Sarah." She detailed multiple instances where the pair entered consensual relations that allegedly turned brutally violent, and Sarah's story is corroborated by witnesses.
Sarah told the Beast that, on one occasion, Miller started "shaking me violently" and then punched her in the mouth, fracturing a tooth, while they had sex. Although she remembers the incident quite vividly, Sarah says that Miller claimed that she had simply injured herself during a drunken fall. On another occasion, she accuses him of nonconsensual penetration, both anally and with a beer bottle, after a party during a "'five-hour' ordeal" that she says began as consensual sex but turned into a nightmare overheard by roommates:
"We started to fool around, and very early in that, he put his hands around my throat and closed them, and I couldn't breathe," she recalled. "I was genuinely terrified and completely surprised. I understand now that this is for some people a kink, and I continue to believe it is [something] that should be entered into by consenting parties. But, as someone who had only begun having sexual encounters, like, about three months earlier, I had no awareness this was a kink, and I had certainly not entered into any agreement that I would be choked.

"I was fully paralyzed," Sarah continued.

Sarah claimed that she was "choking audibly" — to the point that her roommates could hear what was happening and rushed over to knock on her bedroom. Sarah said she then got up and walked to her door in a robe, and one of her roommates asked if everything was OK.
Sarah says she was in shock and had no clue whether she was alright, but the next day, she told her roommates what happened, and two spoke to the Beast:
"I knew T.J. was in her bedroom and I was in my bedroom, which was a wall away. My [other] roommate was in my bedroom with me and we heard a loud smacking noise, and we were concerned … The very next day when we talked to [Sarah] she was very upset, and … had said he had hit her in a very violent way."
"One night, she had [Miller] back, and late at night … [a housemate and I] heard quite a lot of fighting [sounds] and banging, and loud, violent sounds [in the room next to us]."
One of the roommates noted that Sarah was covered in bruises the next morning and looked like she'd endured "a rough night." Sarah soon parted ways with Miller, and nearly a year later, she felt ready to take her story to the campus police. At that point, she and a testifying roommate say they found nothing but opposition from the student court: "I felt very uncomfortable, the way they were challenging me on it," she said. Sarah was later told the matter was "resolved" and would not go forward.
Multiple anonymous parties who knew Miller in college told the Beast that they saw him as a caring, non-violent person. Miller and his wife, Kate, also released a statement to the Beast and say Sarah is obsessed with their relationship:
"We met this woman over a decade ago while studying together in college, she attempted to break us up back then by plotting for over a year before making contradictory claims and accusations.

"She was asked to leave our university comedy group because of worrisome and disturbing behavior, which angered her immensely, she then became fixated on our relationship, and began telling people around campus 'I'm going to destroy them' and 'I'm going to ruin him."
For her part, Sarah says she was largely alienated from mutual friends who sided with Miller during their breakup. She denies being vengeful and says that she never wanted to put Miller "in jail" or "mess up his life," but she feels that at this stage, "I don't think it's appropriate that I carry this by myself." The Beast notes that they contacted Sarah months ago while digging into this story, and her friends told the publication that she "expressed no desire to come forward and was actively avoiding media inquiries." Now that the #MeToo tidal wave has reached unfathomable heights, Sarah decided to tell her story.
UPDATE: Both T.J. and Kate Miller have posted a longer joint statement on social media along with a photo.
(Via The Daily Beast)