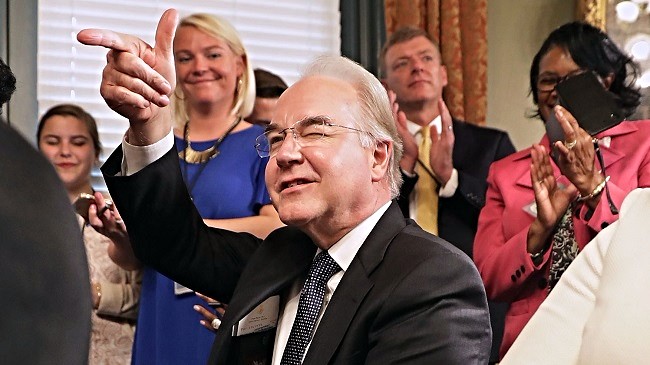 Treasury Secretary Steven Mnuchin isn't the only official in Donald Trump's White House who apparently prefers the use of private jets. According to Politico, Tom Price, the former Republican Georgia representative turned health secretary, chartered private jets for at least five different flights between Wednesday, September 13th and Friday, September 15th. The flights, per internal department documents, reportedly "took him to a resort in Maine where he participated in a Q&A discussion with a health care industry CEO, and to community health centers in New Hampshire and Pennsylvania."
While Mnuchin subsequently denied reports of his requesting the use of a private jet funded by the taxpayers, it seems the evidence for Price's case is much stronger. What's more, it makes the health secretary look that much worse since reporters covering the initial Politico story and its followup have determined a commercial option existed for one of his chartered flights:
On one leg of the trip — a sprint from Dulles International Airport to Philadelphia International Airport, a distance of 135 miles — there was a commercial flight that departed at roughly the same time: Price's charter left Dulles at 8:27 a.m., and a United Airlines flight departed for Philadelphia at 8:22 a.m., according to airport records.
Tickets for the United Airlines flight were as high as $725 and as low as $447 per person, whereas chartering a plane for the same route reportedly costs $25,000. To make matters worse, others discovered and listed price tags for additional means of travel between the two cities — including bus and train.

Yet the juiciest part of Price's pricey airfare comes courtesy of a 2009 appearance on CNBC, when the Georgia congressman railed against his Democratic colleagues' egregious use of charter planes for official travel. "I think we've made it halfway where we ought to. That is, cut it from eight to four jets. Now we need to cut it from four jets to zero jets," Price said of he and his allies' efforts to curb the practice. "This is just another example of fiscal irresponsibility run amok in Congress right now."