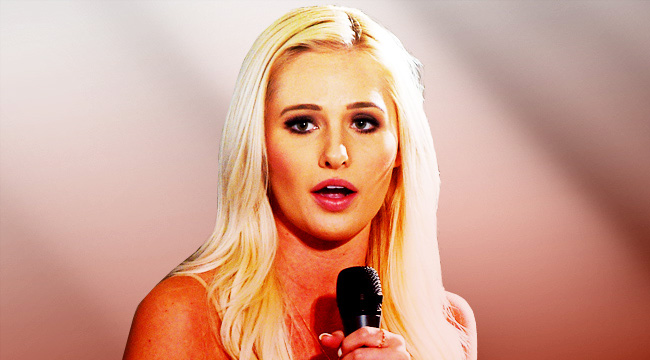 Tomi Lahren's no stranger to landing in hot water for not fitting inside a neatly packaged conservative box, such as the time when she admitted to being pro-choice on The View. It was a departure — and Glenn Beck ultimately fired her from TheBlaze for it — from her previous (and rather staunch) pro-life statements. Over the weekend, Lahren went on to surprise people again while debating Chelsea Handler. The most shocking moment of the (otherwise lukewarm) event occurred when Lahren admitted benefiting from Obamacare while slamming it at the same time.
The moment of seeming hypocrisy was a brief one, in which Lahren simply stated, "Luckily, I am 24, so I am still on my parents' plan." Naturally, this led many people to question why Lahren even needed to be on her parents' plan, let alone why she'd abandon her principles to do so. Under Obamacare, she's allowed to do so until age 26, but she's raged so fiercely against Obama's legacy act that it seems inconsistent that she would take advantage of it. To defend herself, Lahren penned an op-ed for the Hill, which is called "The Liberal Media Twisted My Words" and begins like this:
Leave it to the mainstream media to ruin an otherwise pleasant morning. The day after my Politicon sit-down with Chelsea Handler, the liberal media decided to tarnish a productive debate between two political adversaries with the usual pro-ObamaCare spin.

Yes, I have benefited from the ObamaCare provision allowing young adults to stay on their parents' insurance plans until age 26. Yes, some provisions in the law make sense. That one certainly does. The law's coverage of pre-existing conditions is another, and any Republican healthcare plan should include something similar.
From there, Lahren continued to bash Obamacare before describing her critics as "snowflakes." She also took time to voice her (as of now) unwavering support of President Trump's tweeted ban on transgender troops, which "blindsided" military leaders and has led them to refuse to cooperate for now.
For her part, Lahren insists that she has "nothing against transgender people," but she believes that Trump's policy, while not "sweet-sounding," will save millions of dollars in taxpayer dollars, and she appears to think that "regular hormone treatments and follow-up visits" for those who transition make them far less "instantly deployable." This isn't surprising to hear from Lahren, until she changes her mind on that stance, too.
(Via The Hill)