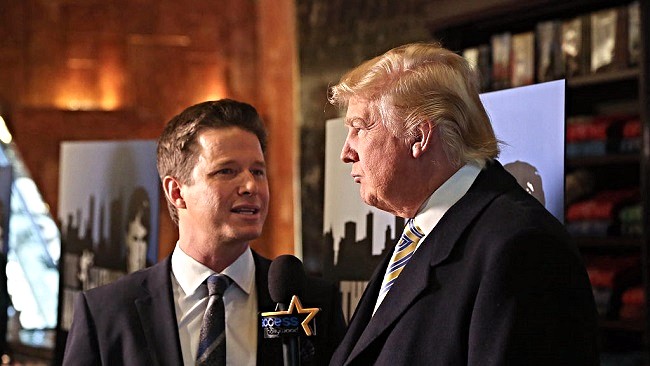 Aside from Billy Bush's regret and a report claiming the entire affair drove Ivanka Trump to tears, very little has been said of Donald Trump's controversial Access Hollywood tape since May. Between the New York Times's recent expose alleging similar behavior by Hollywood producer Harvey Weinstein and the administration's decision to roll back the Obama-era contraceptive coverage mandate, however, now is as good a time as any to mention it again. Hence why the women's advocacy group UltraViolet decided to play the infamous Access Hollywood footage on a 12-hour loop just outside the White House on Friday.
According to The Hill, the organization is running the footage uninterrupted from 9 am to 9 pm ET, on Constitution Avenue between the White House and the National Mall. "It was not so-called 'locker room talk,' it was a man bragging about sexually assaulting women," organization co-founder Shaunna Thomas said in a statement. "That man may now sit in the Oval Office, but we will not let him — or anyone else — forget the tape or those comments."
UltraViolet, which describes itself as a "community of people mobilized to fight sexism and create a more inclusive world that accurately represents all women, from politics and government to media and pop culture," released its initial statement before the White House announced its decision to roll back President Obama's birth control measure on Friday. Hence why, in her comments, Thomas primarily referenced the administration's "active dismantling of legal protections for survivors of sexual assault," especially Education Secretary Betsy DeVos and Attorney General Jeff Sessions's work.
However, as soon as the announcement was made, the group began sharing information about the roll back while progressing with its own protest. This included a recent announcement that four different organizations — including American Civil Liberties Union, the National Women's Law Center, the Center for Reproductive Rights, and Americans United for Separation of Church and State — will be suing the Trump administration over the matter.
(Via The Hill)