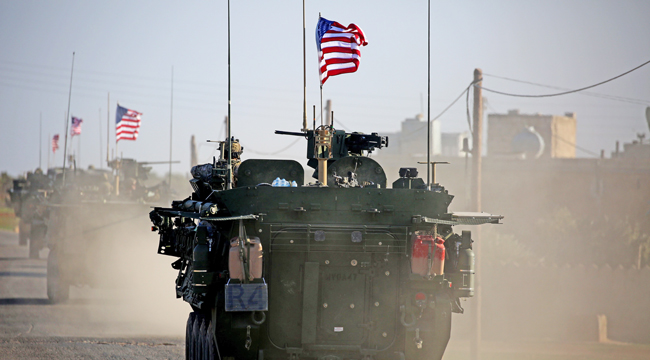 Last week, President Trump randomly told reporters that he felt it was time to pull troops from Syria, "like, very soon." He declared that the U.S. should "let other people take care of it" — the "it" in question being whatever's left of the country amid a protracted civil war after, in Trump's words, "we've been knocking the hell out of ISIS." On Wednesday, the Washington Post reported that Trump had instructed military leaders to start preparing for the withdrawal, but a White House statement contradicted him while stressing that the U.S. is "committed to eliminating the small ISIS presence in Syria that our forces have not already eradicated."
In addition, Director of National Intelligence Dan Coats stated that a decision on whether to withdraw from Syria has been made while teasing an announcement forthcoming. A bit later, NBC News reported (without input from Coats) word from an unnamed Trump senior official that Trump "reluctantly agreed" with advice from his national security team, including James Mattis, that U.S. troops will stay "for an undetermined period of time." However, Trump apparently didn't do so without some degree of protest:
"He wasn't thrilled about it, to say the least," the official said.

Defense Secretary James Mattis and other top officials made the case to Trump that the fight against ISIS was almost finished but a complete withdrawal of U.S. forces at this time would risk losing gains the U.S. has made in the fight, the official said.
In addition, Trump reportedly also "wasn't thrilled" and "made his displeasure clear" when Mattis didn't give him a specific time frame for pulling out all U.S. troops from Syria, despite Mattis' assurances that the number of troops is being reduced. And Trump reportedly told Mattis that he doesn't want to largely fund the rebuilding of Syria and expects other countries to step up in that regard.
It seems that Mattis is attempting to not abandon Syria amid an ongoing ISIS exodus, which would set the stage for a "political vacuum," thereby allowing another terror organization to flourish. Yet Trump appears to be resisting that cautionary move, which means we might see reports of Trump-Mattis friction coming our way soon.
(Via Washington Post & NBC News)