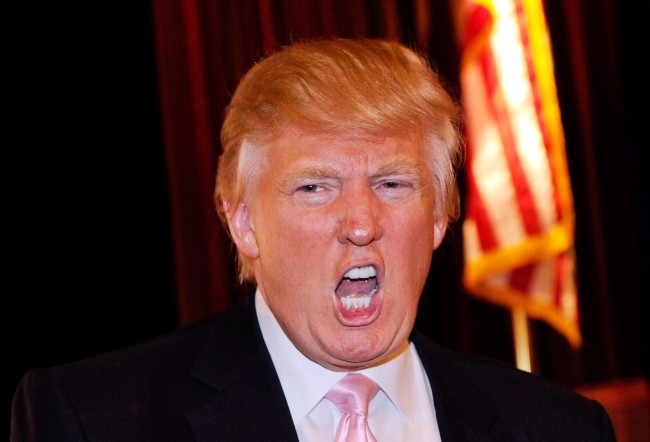 An increasingly paranoid, frustrated Donald Trump has been taking out his feelings over the Senate Intelligence Committee's Russia probe on Twitter, but according to leaks from the White House, that's not all. As his approval ratings plummet and the Russia scandal refuses to dissipate, Trump has been reportedly shouting at his television and entertaining conspiracy theories about the reasons for his administration's woes. He's also admitted that he himself is under investigation for firing James Comey.
Trump's disapproval rating hit a new low at 64% according to a new AP poll. While Trump has been calling for unity after a shooter gunned down a Republican congressional baseball practice, it seems Americans have been coming together over the disagreement with the Trump administration. The AP poll shows that most respondents disagree with his position, and recent actions, on healthcare and climate change. Not only that, his Republican base is less supportive than they used to be. A third of the Republican voters who responded felt Trump lacked respect for America's democratic institutions.
Meanwhile, the Senate and FBI have each been investigating the administration's possible ties to Russia from every angle, gathering testimony from and on former FBI director James Comey, and former Trump associates Michael Flynn, and Paul Manafort. As the pressure mounts, Trump has been pushing through legislation to add up to small successes, like reopening Obama-era immigration cases and renewing restrictions on travel to Cuba. He's also been reportedly shouting at his television set while he watches coverage of the probe, according to anonymous staffers who spoke to the Associated Press, convinced this is all a conspiracy to cut his presidency short.
Publicly, Trump has taken to Twitter to work out his frustrations. That isn't at all unusual, and most of his complaints touch on familiar topics and tropes, from claiming the Russia probe hasn't turned up proof of "collusion with the Russians" ("Sad!") to asserting his Twitter account has more clout than "the Fake News Media." He declared, "I can go around them!" But one tweet in particular was out of the ordinary: for the first time, Trump acknowledged that he himself is under investigation for firing James Comey.
Dianne Feinstein felt that Trump's Twitter rhetoric lately suggests that, despite his paranoia, he still doesn't think he'll actually hear his famous catch-phrase "you're fired" used against him. "The message the president is sending through his tweets is that he believes the rule of law doesn't apply to him and that anyone who thinks otherwise will be fired," Feinstein told the AP. "That's undemocratic on its face and a blatant violation of the president's oath of office."
Many on Capitol Hill, including Feinstein, are worried that Trump wont have learned his lesson from Comey and will try to fire special counsel Robert Mueller and deputy AG Rod Rosenstein. It seems Rosenstein in particular has gotten under Trump's skin, and some are wondering if the timing of Trump's tweets had to do with statements made by Rosenstein as part of the investigation on Friday.
(Via AP)