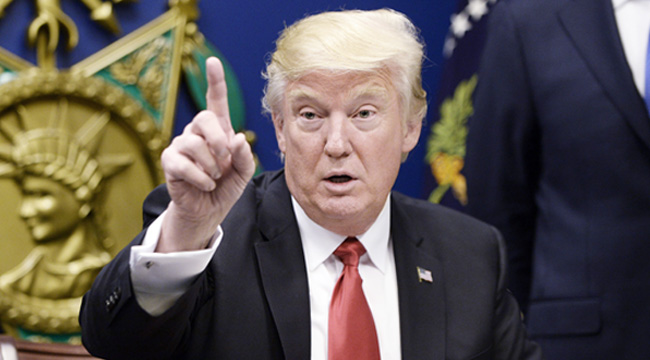 On Monday night, Donald Trump fired Acting Attorney General Sally Yates for directing the Justice Department not to defend his immigration ban in court. At about the same time, the Associated Press reported that some key members of Trump's cabinet were completely taken aback by the same executive order, which blocked refugees from seven Muslim-majority countries from entering the U.S.
Clearly, this dissent isn't a fantastic sign for Trump — what would he do if Rex Tillerson decided to bow out of the secretary of state gig before he's even confirmed? Trump must not be worried, for he reportedly didn't even inform Tillerson and other top cabinet members about the impending travel ban. The AP has the alleged backstage drama:
At least three top national security officials — Defense Secretary Jim Mattis, Homeland Security Secretary John Kelly and Rex Tillerson, who is awaiting confirmation to lead the State Department — have told associates they were not aware of details of the directive until around the time Trump signed it. Leading intelligence officials were also left largely in the dark, according to U.S. officials.
The piece then diverts to discussing the group of U.S. diplomats who circulated a "dissent" memo, to which White House spokesman Sean Spicer responded, "They should either get with the program or they can go." And the AP speaks to how this blowback highlights how Trump's not consulting his cabinet, and Mattis and Tillerson are reportedly pissed:
The blowback underscored Trump's tenuous relationship with his own national security advisers, many of whom he met for the first time during the transition, as well as with the government bureaucracy he now leads. While Trump outlined his plan for temporarily halting entry to the U.S. from countries with terror ties during the campaign, the confusing way in which it finally was crafted stunned some who have joined his team.

Mattis, who stood next to Trump during Friday's signing ceremony, is said to be particularly incensed. A senior U.S. official said Mattis, along with Joint Chiefs Chairman Joseph Dunford, was aware of the general concept of Trump's order but not the details. Tillerson has told the president's political advisers that he was baffled over not being consulted on the substance of the order.
Trump had to have known his immigration ban would be big news, which may have been why he dropped it in a Friday afternoon news dump. Yet this "surprise" approach created airport chaos and led to a weekend full of protests, which isn't a good look for an incoming administration. Nor is it a positive sign for Trump that associates to his cabinet members are revealing the brewing dissent at the very top.
Meanwhile, Trump has already replaced Yates with Dana J. Boente, who will hold the position until Congress votes on Jeff Sessions as attorney general. However, Sessions' confirmation hearing will now effectively be a vote on the immigration ban, and who knows whether Republicans will take public dissent into consideration.
(Via Associated Press & New York Times)