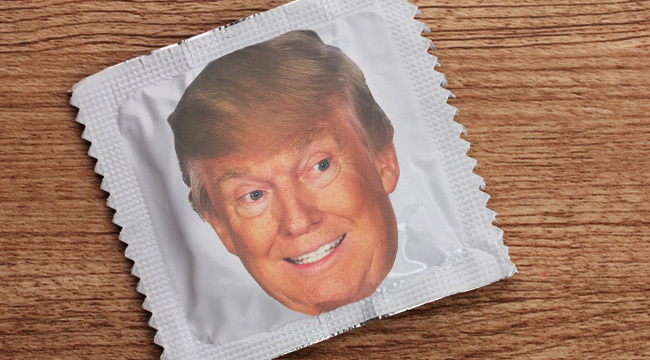 Donald Trump and China haven't been on the best of terms since the Republican presidential nominee won the general election in November. Following his phone call with the Taiwanese president in early December, the president-elect has stood his ground despite repeated shows of force by China, and the international kerfuffle regarding that seized U.S. Navy drone didn't help matters either. Yet a new report in the Washington Post suggests Trump's escalating war of words with the Communist superpower has more to do with his business prowess than American grandstanding.
According to the Post's Simon Denyer, "there are trademarks registered for Trump condoms, Trump toilets, Trump pesticide and Trump paint," in China that have "[no] bearing" or "any direct business relation to the next U.S. president." Why? Because The Apprentice fans like Mao Yongjin wanted to make money with inane products like "Trump beauty cream, Trump moisturizing lotion, Trump anti-aging and brightening serum, and Trump balm." Now that the real estate mogul is about to become the next President of the United States, however, it seems Yongjin's dreams of business acumen are going down the toilet since his (and others') "trademark [applications] won't pass now."
Turns out the Donald has been fighting an ongoing trademark war in China for years, and his newfound fame as the president-elect is making it easier for him to win:
Over the past 10 years, he has lodged 126 trademark applications in China for the TRUMP name, on everything from pet care products to computer software to lingerie to golf clubs, according to records at the Trademark Office of the State Administration for Industry and Commerce.
Trump and his legal team filed 34 trademark applications in 2016 alone, and many of their court battles to win back the Trump brand from Chinese entrepreneurs are finally settling in his favor.
"Because of the election, Trump is widely known to the Chinese people," Beijing attorney Zhou Dandan told the Post. "This meets the requirement of the law: that the duplicated name of a public figure as a trademark is not allowed, as it will create confusion to the public and be negative to the figure."
The reasons for the "Trump" brand's popularly in China vary, however, as not all trademark applications past and present have related to the Donald. For example, the hugely popular brand of toilet manufactured and sold by the Shenzhen Trump Industrial Co. since before 2002. According to founder Zhong Jiye, the company and its 2,000 employees didn't even know a person named Donald Trump existed until recently.
(Via Washington Post)