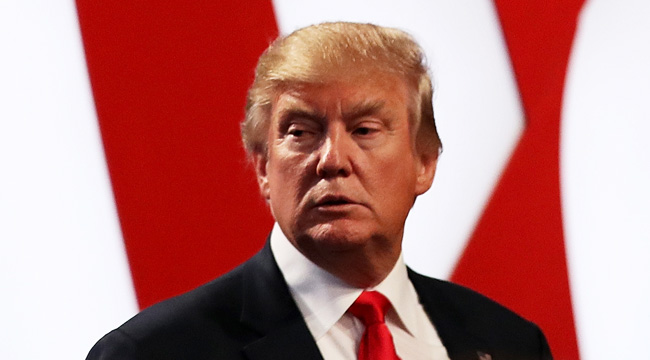 On Tuesday night, Donald Trump's endless twitter stream included a threat to send "the Feds" to Chicago if the city doesn't remedy their "carnage." Trump's tweet came (intentionally or not) after The O'Reilly Factor suggested that the federal government could help the city curb violence. Even during his inauguration speech, Trump commented on inner city violence and gangs and dropped the term "American Carnage." He quoted himself here.
In his tweet, the president may also be citing a Chicago Tribune report that lists comparative statistics on recent Chicago gun violence:
As of early Monday, at least 228 people had been shot in Chicago so far this year, a 5.5 percent increase from the 216 shot in the same period time last year. There have been at least 42 homicides, up 23.5 percent from the 34 homicides from the same period in 2016.

Last January closed with 50 homicides, the most for that month in the city in at least 16 years, according to police statistics. The year ended with 783 homicides, the most since 1996, according to data collected by the Tribune.
However, Buzzfeed notes that Chicago police have disputed this data. The site quotes a PD spokesman, who claims 38 murders have happened in Chicago this year. Despite confusing numbers, Chicago Police Superintendent Eddie Johnson said he is more than happy to be working with federal authorities and remained civil about the president's past comments about Chicago:
"The Chicago Police Department is more than willing to work with the federal government to build on our partnerships with DOJ (Department of Justice), FBI, DEA (Drug Enforcement Administration) and ATF (Bureau of Alcohol, Tobacco and Firearms) and boost federal prosecution rates for gun crimes in Chicago."
Trump has not been shy in his criticism of Chicago's violence issues, once saying it was "out of control" and floating the idea of bringing back "stop-and-frisk" for the city. Trump has not exactly stated what "Feds" he would send in, but he may see resistance from Mayor Rahm Emanuel, who once served as President Obama's Chief of Staff. Emanuel has been critical of Trump in the past, most recently criticizing him for complaining about the size of his inauguration. But Emanuel has not escaped criticism either, as some have pointed that his management of the police department may have contributed to the violence.
(Via Chicago Tribune, Yahoo & BuzzFeed)