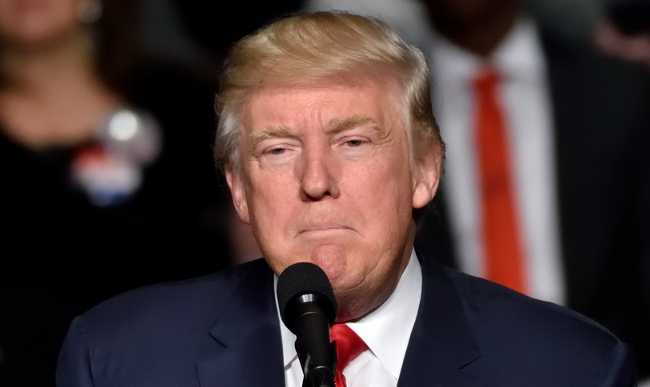 Trump's ties with Russia are becoming increasingly visible, and increasingly a political issue, over the last few months. But one aspect that isn't entirely clear is how much, if any, money flowed from the Russian government to Trump, or those associated with Trump. A new report, however, offers yet another connection between Trump and the Russian state.
The Wall Street Journal is reporting that a state-run Russian bank assisted with the capitalization of the Trump Toronto building. Specifically, the man behind the project, Alexander Shnaider, sold a Ukrainian steel concern to an undisclosed buyer for $850 million, right around the time the Trump Toronto project was facing financial troubles. The bank, VEB, had Vladimir Putin as the chairman of its supervisory board at the time, which means Putin likely personally approved the deal.
Shnaider is best known, outside of the hotel, for a lengthy trial involving a Russian oil investment that he ultimately won. Among other accusations, Shnaider, a Russian-born Canadian citizen, was accused of attempted kidnapping and bribery. Those accusations have largely been dismissed, but Shnaider's connections to Russian and Ukrainian business interests have been under close scrutiny in the past, and Shnaider's connections with, and communications with, the Russian government are unclear.
The Toronto property, meanwhile, has been a perpetual thorn in Trump's side. In October, a Canadian court allowed individual investors to sue Trump, among others, over alleged false claims made about the property as smaller investors in the property have been losing money on it virtually from the start. The property, which the Trump Org does not own but licenses its name to and manages, was sold on promises that the 65-story hotel would have consistent 55% occupancy at any given time: Instead its rates have fluctuated between 15% and 45%. Right before the election, Shnaider essentially washed his hands of the tower, and it's not clear who will own it next.
While no money appears to have gone directly from Russia to Trump in this deal, it's yet another questionable Russian connection for an administration that can ill afford yet more ties to the country. The tower has been a financial problem for Trump, but it appears his Canadian problems are just beginning.
(via The Wall Street Journal and Raw Story)