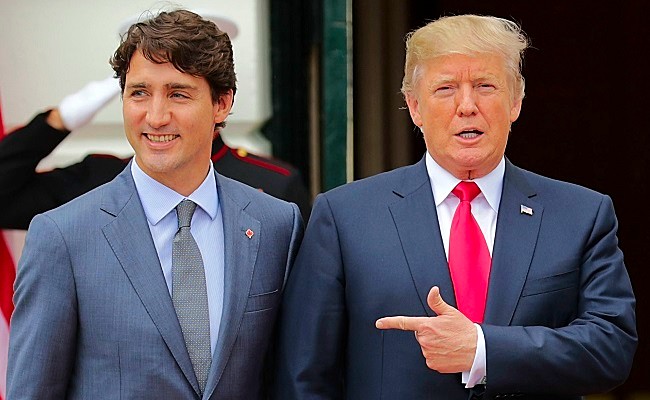 Amid a seemingly continuous stream of updates about his desire to trim more "deadweight" from the White House, President Trump must now contend with audio obtained from a speech he gave at a fundraising event in Missouri on Wednesday. According to the Washington Post, Trump reportedly boasted about his making up several trade claims and other related information during a meeting with Canadian Prime Minister Justin Trudeau.
And why, pray tell, did he do this? "I had no idea," he joked with the crowd. "Because we're so stupid… And I thought they were smart."
The president "launched a blistering attack against major U.S. allies and global economies" for much of Wednesday's speech, as well as the North American Free Trade Agreement (which he called a "disaster") and the World Trade Organization (which he claimed "[allowed] other countries to box in the United States on trade").
As for Canada and Trudeau, Trump's words were much kinder:
"Trudeau came to see me. He's a good guy, Justin. He said, 'No, no, we have no trade deficit with you, we have none. Donald, please,'" Trump said, mimicking Trudeau, according to audio obtained by The Washington Post. "Nice guy, good-looking guy, comes in — 'Donald, we have no trade deficit.' He's very proud because everybody else, you know, we're getting killed."

Even so, Trump couldn't resist the opportunity to go off-script in his speech, which subsequently led to his admission of lying:
"So, he's proud. I said, 'Wrong, Justin, you do.' I didn't even know… I had no idea. I just said, 'You're wrong.' You know why? Because we're so stupid… And I thought they were smart. I said, 'You're wrong, Justin.' He said, 'Nope, we have no trade deficit.' I said, 'Well, in that case, I feel differently,' I said, 'but I don't believe it.' I sent one of our guys out, his guy, my guy, they went out, I said, 'Check, because I can't believe it.'"
So Trump and Trudeau's people apparently did recheck the numbers, and it turns out Trump's gambit didn't pay off at all because the U.S. does not have a trade deficit with Canada, but a trade surplus. "'Well, sir, you're actually right. We have no deficit,'" the president recalled saying at the time, though he did insist that "we lose $17 billion a year" when energy and timber are accounted for.
UPDATE — 9:40 am ET: As the news of Trump's comments about Trudeau went viral, the president took it upon himself to respond to the story on Twitter. "We do have a Trade Deficit with Canada, as we do with almost all countries (some of them massive)," he insisted. "P.M. Justin Trudeau of Canada, a very good guy, doesn't like saying that Canada has a Surplus vs. the U.S.(negotiating), but they do…they almost all do…and that's how I know!"
(Via Washington Post)