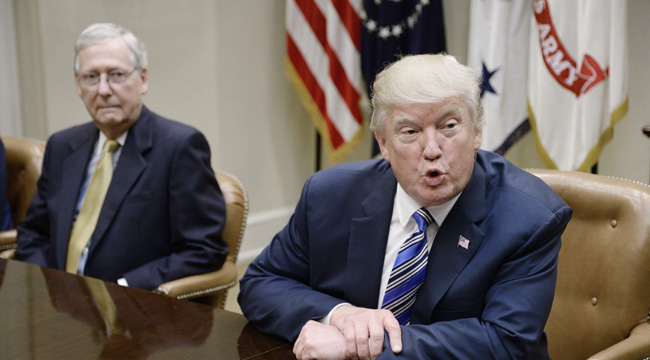 Mitch McConnell has had a bummer of a summer. Despite a Republican majority in the Senate, McConnell was unable to pass new healthcare legislation after a number of attempts. Earlier this week, McConnell spoke at a Rotary Club meeting in Kentucky about his frustration with the perception that Congress isn't getting anything done or moving quickly enough on various initiatives since President Trump took office. McConnell's "excessive expectations" comments drew the ire of Fox News Sean Hannity and White House social media director Dan Scavino, and it didn't take long for President Trump himself to pile on the Senate majority leader.
In multiple tweets over two days, President Trump took a break from the links and threatening North Korea with nuclear annihilation to tease McConnell about failing to repeal and replace the Affordable Care Act. However, in his latest tweet about the subject, the president, in the middle of a 17-day "working vacation," told McConnell to "get back to work" and give him some legislation to sign into law.
"Mitch, get back to work and put Repeal & Replace, Tax Reform & Cuts and a great Infrastructure Bill on my desk for signing. You can do it!" the President wrote.
At a brief appearance Thursday, President Trump also hinted that McConnell should resign if he is unable to pass this legislation.