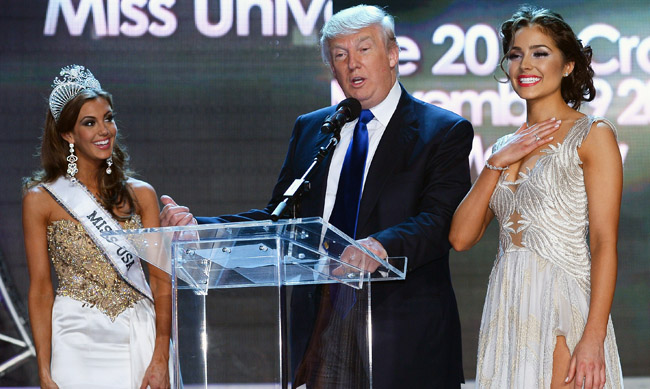 Mother Jones has published two excerpts from an upcoming book titled Russian Roulette: The Inside Story of Putin's War on America and the Election of Donald Trump by Michael Isikoff and David Corn, which delves into Donald Trump's fateful 2013 trip to the Moscov for the Miss Universe pageant, which eventually became the subject of scrutiny thanks to the Christopher Steele dossier. (See: pee-pee tape!)
Apparently it was not a secret to Miss Universe staffers that Trump's ulterior motive in Russia was fueled by business aspirations — and more specifically, to develop a relationship with Vladimir Putin. Five months earlier in June, when plans to hold the Miss Universe pageant were first announced, Trump tweeted, "Do you think Putin will be going to The Miss Universe Pageant in November in Moscow – if so, will he become my new best friend?"
Although Trump never did get to meet with Putin during that trip due to a traffic jam, of all things, it somehow ended up paving the way for Russia meddling into the 2016 election. Buried in the narrative however, is another noteworthy detail about how Trump treated Miss Universe contestants of color.
Given everything we've come to expect from Trump, the fact that he would allegedly reject contestants who were dark-skinned or ethnic-looking should honestly come as little surprise.
Frequently, Trump would toss out finalists and replace them with others he preferred. "If there were too many women of color, he would make changes," a Miss Universe staffer later noted. Another Miss Universe staffer recalled, "He often thought a woman was too ethnic or too dark-skinned. He had a particular type of woman he thought was a winner. Others were too ethnic. He liked a type. There was Olivia Culpo, Dayanara Torres [the 1993 winner], and, no surprise, East European women." On occasion, according to this staffer, Trump would reject a woman "who had snubbed his advances."
Paula Shugart, the president of the Miss Universe Organization, was apparently able to sometimes change Trump's mind about a contestant by telling him that "she was a princess and married to a football player," according to one staffer.
Miss Venezuela Gabriela Isler was eventually crowned Miss Universe that year, although at this point the actual outcome of the pageant is the least important detail from the event.
(Mother Jones via Daily Beast)