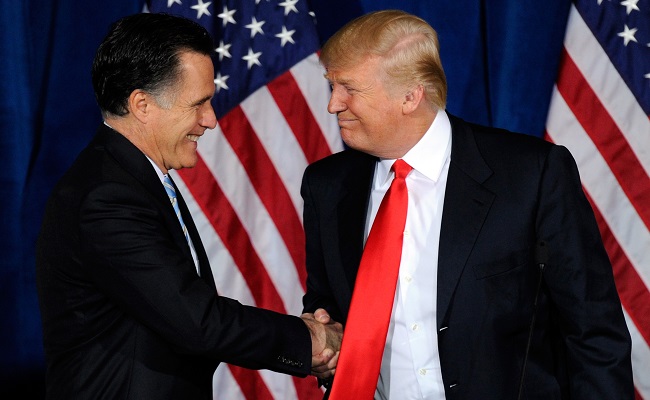 Donald Trump, never one to let a grudge go, is reportedly asking for a public apology from Mitt Romney for the comments he made during campaign season. Mediaite reports that a transition team member told Fox's Ed Henry that Romney won't truly be considered for secretary of state until he eats some humble pie.
The feud between Trump and Romney has been bubbling for some time, as the two have traded barbs back and forth. Romney called the media mogul a "fraud" and may have pushed for an outside candidate to be the GOP presidential pick. The Donald fired back at the former Massachusetts governor, saying he would have been so lucky to get a Trump endorsement in 2012. The two put their differences aside earlier this month to possibly discuss a cabinet position.
Now, Trump is apparently asking for Romney to grovel before he fully considers him for the coveted secretary of state job. The Hill reports that the contest is between Rudy Giuliani and Romney at this point, and it may go Giuliani's way since he has been a loyal supporter and surrogate for Trump. But Romney is still in the running in order to appease the standard conservative base that Trump didn't quite satisfy during election season.
(Via The Hill)