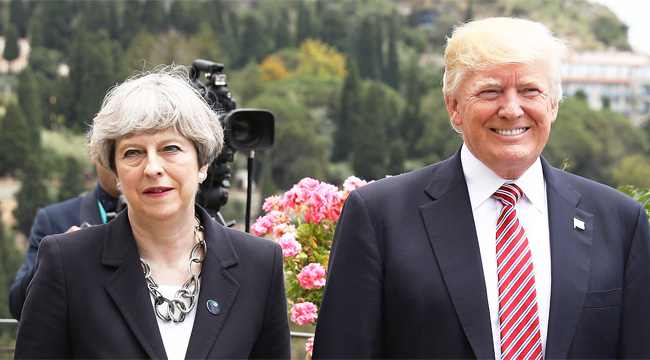 Donald Trump's popularity in Great Britain has taken some recent hits after he withdrew the U.S. from the Paris Climate Agreement and trashed London Mayor Sadiq Khan following the London Bridge terror attacks that killed eight people and injured nearly 50 more. Khan responded by calling for the cancellation of Trump's upcoming state visit (which was planned for an indefinite date), and British Prime Minister Theresa May didn't make a public determination on the matter. However, The Guardian reports that Trump has put the visit on ice until he manages to improve his image across the pond.
So … never? Trump used a terror attack against one of America's closest allies to promote and justify his "travel ban." And Brits — who are dealing with not only that event but uncertainty within the Brexit mess (that Trump supported while not understanding the implications) — aren't likely to soon dismiss their disgust. Trump is apparently aware of this, and this report about a leaked phone call with May reveals his fear of "large-scale protests" on the streets. Oh, those persistent leaks:
Donald Trump has told Theresa May in a phone call he does not want to go ahead with a state visit to Britain until the British public supports him coming. The US president said he did not want to come if there were large-scale protests and his remarks in effect put the visit on hold for some time.

The call was made in recent weeks, according to a Downing Street adviser who was in the room. The statement surprised May, according to those present.
The report was followed by silence from the White House and (for what it's worth) a denial from Theresa May's Downing Street office. A spokeswoman told Reuters that May would not comment upon the phone call report but emphasized that the queen invited Trump to visit, and "and there is no change to those plans." Yet since there was never a date announced for Trump's supposed visit, a postponement is easy to deny.
Meanwhile, MP Jeremy Corbyn (whose Labour Party gave May a huge surprise that has sent her scrambling to secure her power after last week's election) has declared that a cancellation of Trump's visit would be "welcome."
UPDATE – 4:00pm EST: Naturally, Sean Spicer has described reports of a delay as "false." However, he was unable to provide any sort of timeline on when a Trump U.K. visit would occur.
(Via The Guardian & Reuters)