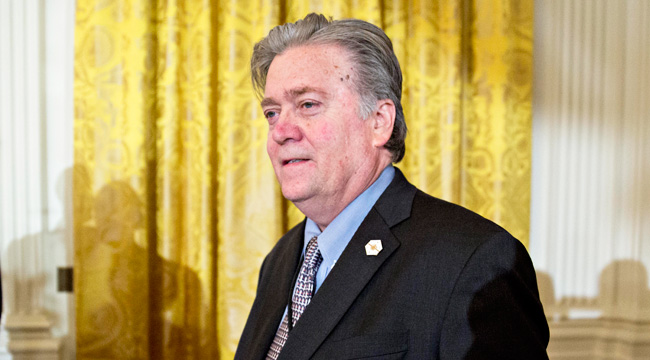 During Donald Trump's transition to the presidency, he named Steve Bannon as chief strategist. This was unsettling news for anyone who's aware of how Bannon turned Breitbart News into a haven for anti-Semitic readers. And on Saturday night, news dropped that Bannon had scored a top position on the National Security Council. Reactions to this news have spawned the #StopPresidentBannon hashtag for understandable reasons.
Trump reshuffled the council to elevate Bannon to a permanent position and to remove both the Joint Chiefs of Staff and the director of intelligence from regular attendance of the principal's committee. So, the leader of a far-right publication will enjoy great influence in Trump's administration and will be engineering key national security decisions. This prompted a former national security adviser to call Trump's move "stone cold crazy."
Not only that, but Bannon was instrumental in carving out Trump's ban (and he overruled Homeland Security by declaring that it applied to green card holders, which the administration later backtracked on) on refugees from seven Muslim-majority countries. All of this is leading to one big question …. Who's really running the show? Folks are wondering if Bannon's in charge.
Remember, this is the same guy who admitted to viewing Satan and Darth Vader as role models.
Bannon's critics are not mincing words, and the neo-Nazi label has come out, along with a key reaction GIF.
The #StopPresidentBannon hashtag now accompanies photos of protests (against Trump's immigration ban) in New York City's Battery Park, Copley Square in Boston, LAX airport, and on Pennsylvania Avenue in D.C.
Perhaps equally important as the protests themselves are the below phone numbers for the House and Senate. If folks are truly worried by Bannon's rise, they can call in their concerns to Capitol Hill.