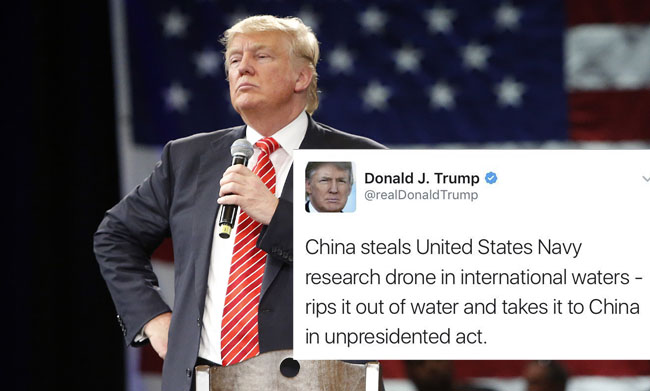 The tense relationship between the U.S. and China may continue as President-Elect Donald Trump called out the country on Twitter Saturday morning. In the tweet, Trump criticized China for seizing an unmanned American submarine earlier this week. But the president-elect may have gotten ahead of himself and had a major typo in his original tweet.
In the rush to be first to comment on a story, mistakes can be made along the way. Typing out a tweet as fast as you can in order to make a point can result in typos. And the president-elect is all too familiar with that, as his tweet about the China situation was a bit off:
Perhaps he is still happy about his election win and wants to incorporate president into every sentence he says? Or it's merely a typo that was caused by Trump rushing to judgment on the social media app. The error became a trending topic on Twitter almost immediately after it was posted, with many people using the hashtag #unpresidented to make fun and point out the gaffe could be a "Freudian slip" following all the discussion surrounding Russia and the results of the 2016 election.
Spelling errors aside, Trump's tweet comes as the U.S. and China are discussing the return of an underwater drone, which the Chinese military seized on Thursday off the coast of the Philippines. Pentagon spokesman Peter Cook told Politico the unmanned underwater vehicle is "an unclassified 'ocean glider' system" that was carrying out "routine operations in accordance with international law."
The Chinese Foreign Ministry said they are working through the proper military channels to deal with the issues. The country maintains that anything in the South China Sea, which is off the coast of the Philippines, is their territorial water and are therefore entitled to what ends up there. The U.S. has pushed back at this claim.
Trump tweeting out his displeasure of something is nothing new. But getting involved now is a bit unprecedented as a president-elect usually does not discuss international matters before entering the White House. It may possibly do more harm than good, as relations between the two countries is icy at the moment. This on top of Trump receiving a congratulatory phone call from Taiwanese President Tsai Ing-wen only complicates matters more. Perhaps not the best way to start off an administration.
(Via The Guardian & Politico & Time)