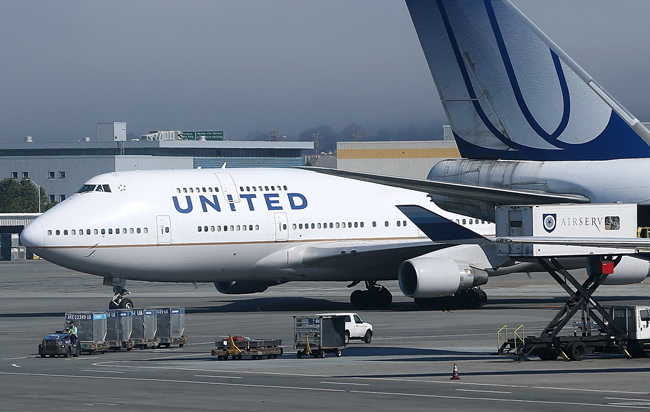 Recent events are probably enough to make someone think twice about stepping on a plane, but it probably takes a bit more to shake the nerves of a flight attendant. That's why it was pretty shocking to read that 13 United Airlines flight attendants refused to board their flight from San Francisco to Hong Kong after seeing this graffiti on the tail section of the plane:
https://twitter.com/OpTic_Crimsix/status/553376225113432064/photo/1
They got in contact with officials at United and asked for an official security sweep of the plane, which didn't happen the way they had hoped. From CBS News:
United Airlines refused to deplane Flight 869, and the ground crew inspected only the auxiliary power unit, or APU, near the drawings, and said it was a "joke."

The flight attendants refused to fly without a full security sweep, and the trip that was was canceled since United had no crew.
Good for them. I wouldn't want to take the risk either. The troubling part is that their hassles from the flight were not over:
In October, the airline terminated all 13 flight attendants for "insubordination."
That sounds like the United we've come to know and enjoy. Now the flight attendants are taking the airline to court over their dismissal, citing laws that protect whistleblowers in the airline industry for reporting safety concerns. United responded with a statement saying they followed all the proper safety procedures, but the fired workers are sticking to their guns:
"I have no regrets at all," Lam said. "If this happens again today, all over again, I would have done the same thing. Any flight attendant would have done — this is our job."
Personally, I'd rather have my flight canceled in this situation than end up stranded or worse. Flying is already one of the worst experiences that we like to put ourselves through, so I'm pretty sure that avoiding possible death is a good thing.
[protected-iframe id="29517357a2c0b2004c2f00227338b481-60970621-60064866″ info="http://www.cbsnews.com/common/video/cbsnews_video.swf" width="650″ height="400″]
(Via CBS News / Bloomberg / Chicago Tribune)