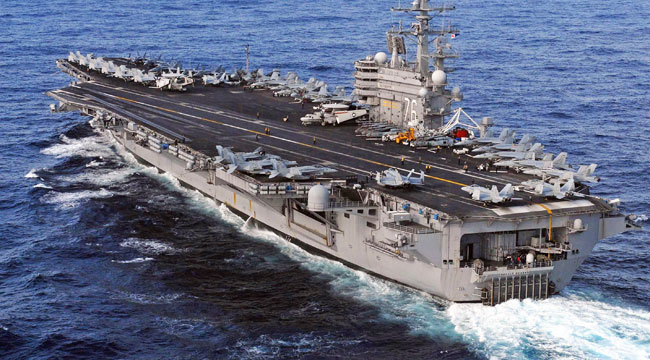 The Pentagon has confirmed that a U.S. Navy aircraft with 11 sailors aboard has crashed into the ocean southeast of Okinawa, Japan. The cargo plane, a C2-A Greyhound, was en route to the USS Ronald Reagan, an aircraft carrier currently deployed to the Philippine Sea. Following the incident, 3 sailors remain missing while 8 have been recovered (reportedly in "good" condition) and transported to the aircraft carrier for medical evaluation.
U.S. military officials became aware of the accident shortly after it occurred at around 2:45 p.m. Japan Standard Time. The Japanese military is assisting in efforts related to the crash by air and sea, and the U.S. Navy has tweeted that search and rescue operations are ongoing.
At this early stage of the investigation into the cause of the crash, Fox News reports that engine problems appear to be culprit. Whether or not the C-2 Greyhound's status as a soon-to-be-replaced aircraft (after first entering the service in the 1960s) has contributed to mechanical problems, it's too soon to tell. However, the USS Ronald Reagan and Seventh Fleet's current location is certainly due to U.S. tensions with North Korea:
Earlier this month, the aircraft carrier USS Ronald Reagan joined two other aircraft carriers off the Korean Peninsula for the first time since the late 60s in a show of force to North Korea. At the time of the plane crash, the carrier was training with the Japanese military.
The crash arrives as the latest disaster for the U.S. Navy, which has seen two deadly warship collisions (involving the USS John McCain and USS Fitzgerald) this year near Singapore. The collision involving the latter resulted in a rare operational pause for the Pacific Fleet and the eventual termination of some top Navy officers after the incidents were determined to be preventable.
Within a tweet, Senator John McCain has indicated that the Senate Armed Services Committee is monitoring the situation and digging into the cause of the crash.
Meanwhile, President Trump has expressed "prayers for all involved."
(Via Fox News, CNN & Military.com)