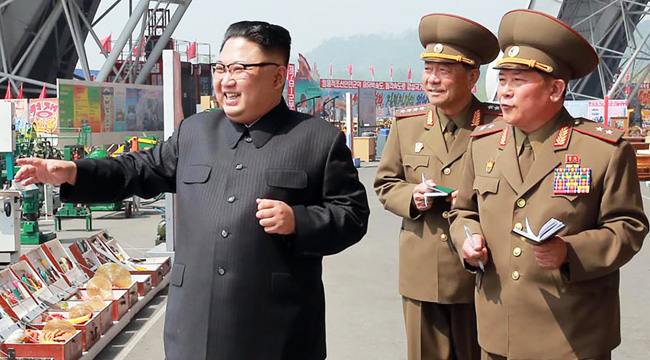 In yet another measure to pressure North Korea into halting its development of missiles and its pursuit of nuclear weapons, the U.S. issued sanctions on two North Korean officials on Tuesday. Per Reuters:
The U.S. Treasury named the officials as Kim Jong Sik and Ri Pyong Chol. It said Kim was reportedly a key figure in North Korea's efforts to switch its missile program from liquid to solid fuel, while Ri was reported to be a key official involved in the country's intercontinental ballistic missile (ICBM) development.
Treasury Secretary Steven Mnuchin said in a statement that the move is part of an ongoing campaign to "isolate" North Korea until Kim Jong Un is forced to abandon his nuclear ambitions. Last week, in response to another missile test, the United Nations announced additional sanctions against North Korea (passed unanimously) that will limit its access to crude oil as well as the earnings of its workers who send money from abroad.
"It sends the unambiguous message to Pyongyang that further defiance will invite further punishment and isolation," U.S. Ambassador to the UN Nikki Haley said after the vote.
In response, the North Korean foreign ministry said the new sanctions are "a grave infringement upon the sovereignty of our Republic" and called them "an act of war" that was akin to a "complete economic blockade."